$14 Million in Damages Awarded to NYCTA Bus Accident Victim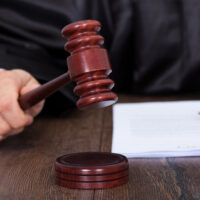 After a second trial where expert witness testimony in support of the plaintiff's claims was permitted, the victim of a hit-and-run bus accident was awarded $14 million in damages by a Manhattan jury.
The case is titled Tate-Mitros v. MTA New York City Transit. The accident victim, William Tate-Mitros, was walking on First Avenue in Manhattan at the time of the accident in 2008. While he was attempting to catch a different bus, a New York M-15 bus hopped a curb, ran over the front two inches of Tate-Mitros' foot, and kept on driving. Emergency personnel were called to the scene of the accident, and Tate-Mitros explained to responding officers that "a bus ran into my foot," according to his attorney.
Tate-Mitros' foot was badly damaged by the accident. He received three reconstructive surgeries to repair the damage, despite the fact that nine of his toe-bone fractures could not be treated due to the risk of infection. Tate-Mitros received rehabilitative treatments, but the pain nevertheless became worse. Prior to the accident, Tate-Mitros' attorney described him as "socially active," with a thriving career as an interior designer for both private clients and The New York Times. Tate-Mitros enjoyed ballroom dancing and ice skating. He was forced to give up his work in early 2012. Later that year, Tate-Mitros suffered a stroke, became entirely dependent on a walker, and moved into a nursing home.
Tate-Mitros filed a claim against the New York City Transit Authority for damages. In 2014, a Manhattan court held a trial on the accident, which the NYCTA argued never occurred. The Transit Authority presented testimony from a trauma doctor who stated that, based on his injuries, and the fact that there were no tread marks on Tate-Mitros' foot, it must have been a smaller vehicle that ran over his foot and not a city bus. Tate-Mitros had retained a biomechanical expert who could testify to why Tate-Mitros' injuries were ones which could have been caused by a bus, but the judge prohibited him from testifying at trial. The jury found for the Transit Authority, and Tate-Mitros appealed. The Appellate Division sided with the injured plaintiff and ruled that the judge's decision to block the plaintiff's expert from testifying had been an error. A second trial was held earlier this year, at which the biomechanical expert was permitted to testify. The jury found in Tate-Mitros' favor, awarding him $7 million for damages covering the past eight years, and another $7 million for the next ten.
If you've been injured in an accident in New York and need help getting the damages you deserve, contact a dedicated and effective Kingston pedestrian accident lawyer at Rusk Wadlin Heppner & Martuscello, LLP for a consultation on your case, in Marlboro at 845-236-4411, and in Kingston at 845-331-4100.