150th Anniversary of Rusk Wadlin Heppner & Martuscello, LLP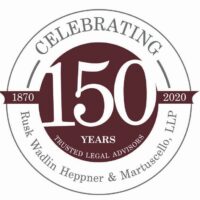 2020 officially marks Rusk, Wadlin, Heppner & Martuscello's 150th anniversary – a sesquicentennial!  Our 150th anniversary celebration is an opportunity to honor the vision of our founders.  Since John Rusk opened our doors in 1870 our firm has experienced an extraordinary expansion of his early entrepreneurial efforts into the company we are today.  We have, and continue to adapt to the changing world which defines our future.
We should not underestimate what it takes to grow a business for 150 years.  Our longevity is due in part to the fact that we have always clearly understood and anticipated the needs of our clients.  We have combined this with the ability to deliver services that responds to those needs.  It shows how over the years our people have delivered success.  Our values, based on dedication, and extensive legal knowledge, have ensured we can deliver 150 years of growth.
This anniversary is not only a moment to celebrate our past, but also a chance to look to the future, and what we are doing to shape the next 150 years of our company.  One of our core values is service to others, and this year is a good opportunity to consider how we will continue to serve our clients and the communities of the Hudson Valley for future generations.  We live in times of immense challenge and unprecedented change.  Our legal system has changed considerably in the last century and a half, and will continue to do so.  We are well-positioned to continue to deliver superior service because we constantly learn, adapt, and change.
This year we take the opportunity to mark our anniversary in many ways with the people who use our services, and to thank our employees whose hard work and commitment to our company delivers our success.
History
Rusk, Wadlin, Heppner & Martuscello, LLP is Ulster County's oldest law firm, continuing to serve the Hudson Valley since John Rusk opened its doors in 1870.  A native of Ireland, John Rusk came to America at the age of 12.  He opened his practice in Marlborough, NY on Western Avenue.  John would later move the firm to Main Street.  He passed away in 1905, with the firm continuing under his son, also named John.
John Rusk's two sons, John Rusk, Jr. and George Rusk, carried on the firm's legacy as its third generation.  The two practiced law together as "Rusk and Rusk".  In 1957 George Rusk opened an office in Kingston, NY, and Rusk and Rusk operated out of the two locations.  Continuing to work as an attorney, George "Doc" Rusk also became President of Kingston Trust Company.
George Rusk's son, George Rusk, Jr. was admitted to the practice of law in 1959 carrying on the family law practice as the fourth generation of Rusks.  Practicing with brothers, Bernard A. Feeney, Jr. and Edward T. Feeney, the firm became known as "Rusk, Rusk and Feeney".  In 1974 with the addition of partners John Wadlin, who joined the firm in 1970, and Tom Plunket, the firm became "Rusk, Rusk, Plunket & Wadlin".  Notably, 2020 marks John Wadlin's 50th anniversary of his admission to the New York State Bar.
Daniel G. Heppner joined the firm in 1975, working out of the Kingston office, and Daniel M. Martuscello joined the firm in 1976, working out of the Marlboro office.  In 1984 the firm changed its name to the current name of "Rusk, Wadlin, Heppner & Martuscello, LLP".
George Rusk, Jr.'s two sons, John G. Rusk and Daniel J. Rusk, carry on the Rusk legacy as fifth generation attorneys.
The firm's first female partner, Wendy Ricks, joined in 1990.   The second, Pamela D. Rusk, joined the firm in 1998 and became partner in 2004.  Pamela D. Rusk is married to John G. Rusk.
Jason J. Kovacs joined Rusk, Wadlin, Heppner & Martuscello, LLP in 2004 as an associate and became partner in 2011.  He also serves as the Ulster Town Attorney.
Rusk, Wadlin, Heppner & Martuscello is proud to add its third female partner this year, Melissa Manna-Williams.
The firm is currently served by "of counsel" attorneys: George Rusk, Jr., John J. Wadlin, Daniel G. Heppner, and Daniel M. Martuscello; partners: John G. Rusk, Daniel J. Rusk, Pamela D. Rusk, Jason J. Kovacs, and Melissa Manna-Williams; associate attorneys: Christine H. Guido, David Goodge, and Nikolas Tamburello.  Our attorneys are supported by a staff of fourteen paralegals and legal assistants.