2017's Safest Cars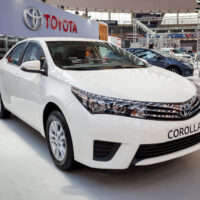 The Insurance Institute for Highway Safety (IIHS) has recently published a list of what it has determined to be the safest new car models of 2017. The safety group added new criteria for assessing the safety of cars and trucks this year, resulting in a shorter-than-average list of top picks.
Each year, IIHS publishes a list of vehicles that meet its increasingly-stringent criteria for a Top Safety Pick. The organization rates new car models from "poor" to "good" in a number of categories, such as the car's performance in a variety of different collision tests, its roof strength, and head restraint system. Cars must also have an advanced or superior front crash prevention system. This year, IIHS awarded the rating of "Top Safety Pick" to 44 vehicles, and the rating of "Top Safety Pick+" to 38 vehicles. Last year, 79 vehicles were awarded the "Top Safety Pick+" rating. Toyota (including models it makes under the Lexus brand) had the most Top Safety Pick+ winners at nine models, including the Toyota Corolla, Yaris iA, and Prius. Other models in the top echelon included the Volvo S60 and S90, the Honda Ridgeline pickup, the Hyundai Elantra, Audi A4, Honda Pilot SUV, and Chrysler Pacifica minivan.
IIHS adds new safety features into its grading criteria each year. Last year, IIHS added the requirement that a vehicle would need a form of automatic emergency braking in order to obtain the Top Safety Pick+ rating. For the first time this year, IIHS included a safety rating for each vehicle's headlights and awarded a "good" rating to only seven vehicle models. In rating headlights, the organization examined whether or not the headlights offered sufficient illumination, as well as whether or not the headlights produced glare. "Automakers have not focused enough attention on whether or not headlamps are aimed such that they light up the road for the driver ahead of them," said Adrian Lund, president of IIHS. Generally, auto manufacturers keep careful watch of the IIHS grading criteria and incorporate these features into their vehicles for the following model year, in order to earn a coveted spot on the Top Safety Pick+ list. IIHS' ratings in this way have a direct impact on the proliferation of safety technology.
If you have been injured in a car or truck accident in New York, find out if you may have a claim for money damages based on your injuries, including medical expenses, lost work, or pain and suffering by contacting an experienced and effective Kingston auto injury lawyers at Rusk Wadlin Heppner & Martuscello, LLP for a consultation on your case, at 845-236-4411 (Marlboro), or 845-331-4100 (Kingston).