$4.8 Million Settlement in Wrongful Death Claim for Emergency Services Crash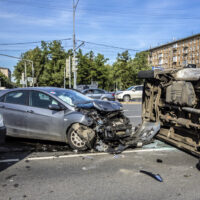 When you hear the siren of an ambulance, fire engine, or police cruiser, you know to pull to the side of the road and allow that vehicle to pass. However, there are times where it may be impossible to clear the intersection in time before the emergency vehicle reaches you, or where you may not have been able to identify the direction in which the vehicle was traveling before you realized it was heading for you. In these instances, both you and the emergency personnel driving the vehicle have a duty to drive as safely as possible under the circumstances, and may both be responsible if a crash occurs.
One family recently settled with both the driver of the vehicle in which their family member was traveling and the City of New York for a crash between a van and a New York Fire Department ladder truck. On March 9, 2011, Albert DeFilippo was traveling with a group of participants in the Lifestyles for the Disabled program, which offers intellectually disabled individuals enrichment programs and work experiences. The van in which DeFilippo was riding was in the process of turning left on to Richmond Road from Burgher Avenue, at a green light, when the ladder truck traveling in the opposite direction on Richmond Road sped through the intersection against a red light. According to witnesses, the truck did have its siren and flashing lights activated at the time of the crash. DeFilippo was paralyzed in the crash, but ultimately died of his injuries five months later. Another passenger, Eric Perry, was immediately killed, and the remaining five occupants in the van were all injured to some degree.
Drivers of emergency vehicles do have a legal right to travel through an intersection against a red light under New York Motor Vehicle & Traffic law section 1104, and other drivers are obligated under section 1144 to clear a path for these vehicles as quickly as possible. However, emergency vehicles nevertheless must slow down when approaching a red light "as may be necessary for safe operation," and cannot speed where excessive speed could "endanger life or property." In this case, the parties reached a settlement which attributed a portion of the liability for DeFilippo's injuries and ultimate death to both the Lifestyles organization and to the City of New York. The City was obligated to pay the family $1.5 million of the $4.8 million settlement, while Lifestyles was ordered to pay $3.35 million to the family.
If you or someone you love has been seriously injured in a crash with a car or truck or in an accident with an emergency services vehicle, seek compensation for your medical expenses and pain and suffering by contacting a knowledgeable Kingston wrongful death attorney at Rusk, Wadlin, Heppner & Martuscello for a free consultation on your claims, at 845-331-4100 for our Kingston office or 845-236-4411 for our office in Marlboro.