5 Ways to Preserve Your Children's Well-Being through Your Divorce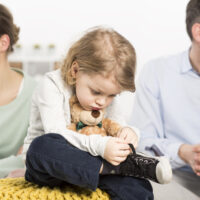 While divorce is difficult for parents, often those hardest hit by the end of a marriage are the children of that marriage. Divorce has an inevitable impact on the children involved. However, there are ways to keep a divorce from being completely devastating for your children. Read on to learn several ways you can make your divorce easier on your children.
Keep fighting to a minimum: You probably know that it's not a good idea to fight in front of your children. According to research by family psychologists, the true damage to children from a divorce comes not from the split itself, but from vicious fighting in front of children and the resulting turbulent home life. Make a commitment not to argue in front of your children and, if necessary, limit your in-face communication with your spouse to reduce opportunities for conflict.
Put custody and spousal support agreements in writing early on: Having a written agreement that makes it clear when you and your spouse will have custody of your children as soon as you separate will offer your children a predictable, stable schedule. Knowing when they'll get to see their other parent again will diminish anxiety your children may experience over the divorce. Providing a guarantee of financial support to the residential parent will also help home life be more stable and relaxed.
Collaborate with your spouse on as many issues as possible: Collaborating throughout your divorce will not only minimize the fighting which your children might witness; it will also help you be able to view your spouse as a partner in raising your children, rather than a sworn enemy. It will also make your divorce shorter, which could save money you'll need to raise your kids.
Consider how the timing of a split will affect your kids: Depending on your children's ages, choose a time to file for divorce that will not have an undue impact on them. For example, if your kids are in high school and have demanding course loads, they might be better served by a summertime divorce. If your children are younger, divorcing during the school year might be better, as they'll have the distraction of school and the support of their classmates.
Speak well of your ex and be happy for the enjoyment your children get out of spending time with them: Encouraging your kids to maintain a healthy relationship with both parents will in turn bolster your children's mental health and development.
If you're considering a divorce in New York, contact the seasoned, knowledgeable, and compassionate Hudson Valley divorce lawyers at Rusk, Wadlin, Heppner & Martuscello, LLP for a consultation on your case, in Marlboro at 845-236-4411, and in Kingston at 845-331-4100.