Accident on Kingston-Rhinecliff Bridge Sends Man to Hospital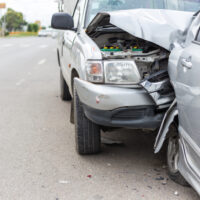 A recent crash in Ulster has resulted in one man being sent to the hospital. Read on to learn more about the local crash, and contact a seasoned Kingston personal injury attorney if you've been hurt in a rear-end crash in the Hudson Valley.
Local crash results from failure to notice slowing traffic ahead
The recent local crash happened on Wednesday, January 31, 2018 during the morning rush hour. At approximately 7:30 am, the driver of a 2002 Mercedes E320 slowed down while heading east near the center of the Kingston-Rhinecliff Bridge in the town of Ulster. Shortly after he did so, his vehicle was struck violently by a 2016 Ford Fusion. Emergency personnel were called to the scene of the accident, where they provided medical treatment to both drivers. The driver of the Mercedes was subsequently taken by ambulance to Northern Dutchess Hospital in Rhinebeck for additional treatment. According to town of Ulster police, the crash occurred when the driver of the Ford Fusion failed to notice that traffic ahead of him had slowed down. Ulster police reported that both vehicles suffered "significant damage" in the crash.
New York law on the presumption of fault in rear-end accidents
As a general rule, if the victim of a car accident files a claim in court against the at-fault driver for money damages, the victim must produce evidence proving that the driver acted wrongfully or negligently in causing the accident. The rules that apply to proving fault in rear-end accidents are different. Rear-end accident victims who were at a complete stop when the crash occurred do not have to prove fault on behalf of the rear-end driver; instead, the driver in the rear must instead prove that they were not at fault for the crash. Otherwise, the court presumes that the rear driver acted negligently in causing the crash. This provides injury crash victims a faster means of establishing liability on behalf of the other driver, simplifying the trial process so that they need only prove the extent of money damages they have a right to collect from the responsible driver.
If you've been injured in a Hudson Valley rear-end accident, find out if you should file a lawsuit to recover the full amount of compensation to which you're entitled by contacting the effective and dedicated Kingston car accident lawyer of Rusk Wadlin Heppner & Martuscello, LLP for a consultation at 845-331-4100, or in Marlboro at 845-236-4411.