Accident Results in Fatal Injuries for Saugerties Woman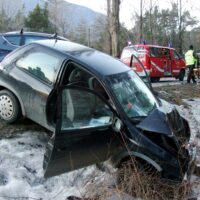 A local three-vehicle accident resulted in the loss of one life and required medical attention to two other individuals involved. The crash occurred at a site where local authorities had recently requested New York State approval to lower the speed limit—a request whose denial was received the day after the fatal accident.
Fatal accident on Route 9W
The accident occurred around 5:45 pm on March 16, 2017, in Lake Katrine. A 2001 Ford was traveling south on Route 9W near Tuytenbridge Road when it was struck from behind by a 1995 Volkswagen. The Volkswagen was sent into the northbound lane of traffic as a result of the impact, where it struck a 2013 GMC. A 48-year-old female passenger of the Volkswagen was pronounced dead at the scene of the crash. The driver of the Volkswagen was hospitalized at the HealthAlliance Hospital's Broadway Campus in Kingston with injuries described as non-life-threatening. The Driver of the GMC was taken to Northern Dutchess Hospital in Rhinebeck, where he was treated and released.
Request for speed limit change denied
State and local governing bodies have a duty to ensure that roads and intersections remain reasonably safe. If they become aware of habitual speeding or a heightened risk of accidents on a particular road or at an intersection, they may be required to take measures to improve safety at the intersection. According to the Ulster Police Department, the stretch of Route 9W between the QuickCheck convenience store and the Ulster-Saugerties town line was the site of 12 accidents between July of 2015 and 2016. The Ulster Town Board, recognizing a safety hazard, requested that the New York State Department of Transportation lower the speed limit to prevent future accidents. The Department of Transportation rejected this request, in a letter discussed by the Ulster Town Board at a meeting the day after the recent accident. The town's supervisors are now investigating use of a speed-enforcement trailer that would use radar to measure driver speed, as well as a license plate reader. The trailer would also record traffic patterns, so that law enforcement will have an even better sense of the issues at this site.
If you've been injured in an accident in New York's Hudson Valley, find out if you have a legal claim for damages resulting from the crash, and contact a knowledgeable and effective Kingston car injury lawyer of Rusk Wadlin Heppner & Martuscello, LLP for a consultation, in Kingston at 845-331-4100, and in Marlboro at 845-236-4411.