Accidents During Childbirth Reduced with Simple Improvements in Hospital Practice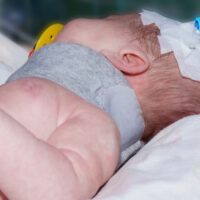 Childbirth can be one of the most beautiful and cherished moments in a parent's life. Unfortunately, when something goes wrong during childbirth, the fragile and tenuous life of the infant can easily be threatened, or that infant can suffer life-long disabilities. Errors by the doctors and nurses who attend to women in labor are all too common; as a result, the obstetrics departments of hospitals are one of the most common targets of medical malpractice claims. In fact, experts estimate that more than 25,000 infants are injured during childbirth each year across the US.
A team of Yale School of Medicine researchers sought to examine the issue of medical errors committed during childbirth and their effects in terms of serious injuries to infants and the total amount of malpractice awards. The researchers implemented a series of systemic changes in the obstetrics department of the Yale-New Haven Hospital. Prior to implementing the changes, this department faced about $27.5 million in medical malpractice claims each year. The hospital made the following alterations to their standard practices during a six-year study period:
Use of electronic charts. The researchers found that using electronic charts or electronic health records (EHRs) served to centralize patient information and prevented such errors as prescription mistakes that caused harmful interactions, or choice of the wrong laboratory test for a patient.
Establishing a senior physician to serve on-call: When doctors and nurses knew that there was a senior supervising physician available to assist with any concerns, physicians were less likely to be pulled away from one birth to assist with another, and patient safety improved.
Use of electronic fetal heartbeat monitors: allowing attending nurses and physicians to see the baby's heartbeat during labor offered them a chance to identify signs of fetal distress earlier, and thus to intervene sooner when problems arose.
Implementing standardized protocols: simply establishing rules for how physicians and nurses should respond to common events during labor and delivery resulted in improved safety for infants and mothers.
Color-coding drugs: By using a standard color labeling system for pre-mixed drugs, medical personnel were more quickly able to identify the drug and less likely to administer the wrong medication or dose.
Over the course of the six-year study period where these changes were implemented, the medical malpractice claims paid out by the Yale-New Haven obstetrics department went down by over $25 million dollars.
If you or your child has been injured in an incident of medical malpractice in New York, find out if you have a claim for money damages for your injuries by contacting the knowledgeable and compassionate Hudson Valley medical malpractice law firm Rusk, Wadlin, Heppner & Martuscello, LLP for a consultation, in Marlboro at 845-236-4411, and in Kingston at 845-331-4100.