Airbags, While Life-Saving, Can Be Dangerous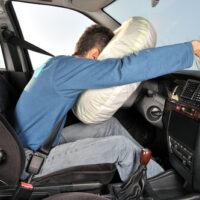 Airbags have undoubtedly done a great deal of good since they became a fixture on modern vehicles. The National Highway Traffic Safety Administration estimates that airbags have saved some 28,000 lives just since the beginning of 2009. However, a recent spate of recalls has highlighted the dangers that defective airbags can cause, in addition to the injuries incurred from non-defective airbags.
Types of injuries that airbags can cause
When an airbag deploys, it does so with immense explosive force. These factors together lead to injuries such as hearing damage when an airbag deploys or explodes; broken ribs, noses, and fingers; burns to the face, hands, arms or chest from the heated gas used to inflate the airbag; and, in cases where children or smaller adults were seated very close to the airbag deployment site at the time of a crash, death. Recent research by cardiologists shows that airbags can cause cardiac trauma not immediately detectable after a crash, including ruptured atria and damaged valves. These serious injuries have been shown to occur even in low-speed car accidents.
A number of lawsuits have recently been filed across the country by individuals who were injured by explosive airbags. The airbags, built by Japanese manufacturer Takata, have been subject to recall on multiple occasions. Victims describe being seriously injured by shards of metal shrapnel, with one woman having been rendered speechless by a piece of metal which punctured her trachea and damaged her vocal cords.
Ways to prevent airbag injuries
In order to avoid being too close to an airbag at the moment it deploys, make sure that your seat is far enough back that your chest is at least 10 inches from the middle of the car's steering wheel. Exercise even greater caution if you're driving while pregnant, or avoid driving during later trimesters as much as possible. It is imperative that children under 12 or children in rear-facing safety seats not sit in the front seat, as a deploying frontal airbag could cause them serious injury. Airbags can cause additional injury to the short and elderly. These persons may benefit from using a pedal extender in their vehicles. Most importantly, ensure that all occupants of the car use a seat belt. Research shows that approximately 80% of all those fatally injured by an airbag were not wearing a seatbelt at the time of the crash.
If you or your loved one has been hurt by an airbag and need help seeking the compensation you deserve, contact the experienced Hudson Valley personal injury attorneys at Rusk, Wadlin, Heppner & Martuscello for a consultation on your claims, at 845-331-4100 in Kingston or 845-236-4411 in Marlboro.