Annual Round of Commercial Vehicle Road Checks Has Troubling Results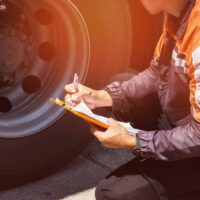 When large commercial vehicles are not properly driven, loaded, or maintained, they can be highly dangerous to those with whom they share the road. Commercial trucking is a heavily-regulated field, but many carrier companies fail to adhere to these rules and pressure their drivers to do likewise. Each year, the Commercial Vehicle Safety Alliance (CVSA) holds a three-day-long series of roadside safety checks, flagging down tens of thousands of large commercial vehicles for inspection. The results of the 2017 round of inspections were troubling, with thousands of vehicles being taken out of service as a result of their performance on these tests.
The 2017 International Roadcheck was held from June 6-8, 2017. During these 72 hours, motor vehicle enforcement personnel who had been certified by the CVSA conducted safety examinations of over 62,000 vehicles. All manner of large commercial vehicles were included in these tests, including big rigs, tractor-trailers, large trucks, buses, and motorcoaches. The tests, the dates of which were announced as far back as March of this year, were conducted at truck weigh stations, inspection sites, and roadside stops across Canada and the United States.
Despite the advance warning, a staggering number of vehicles were deemed to be too unsafe to remain on the road. Among all vehicles and drivers subjected to an inspection during the Roadcheck, 19.4% of vehicles and 4.7% of drivers were removed from service. Inspectors took over 9,300 vehicles out of service due to safety violations occurring with the vehicle itself. Nearly 27% of the violations that inspectors found consisted of problems with the vehicle's brake system. Another 15.7% had problems with the manner in which cargo was secured, and 15% had unsafe tires or wheels. Drivers who were removed from service were often found to have violated hours of service regulations. These laws govern how many hours a day a driver can be on the road, as well as the number of breaks and hours of rest they must take. Driving over these limits can result in drowsiness, which studies have found to be as dangerous as drunk driving.
Vehicles carrying hazardous materials fared slightly better, although with a still-troubling 12.8% being removed from service for vehicle-related violations. Forty percent of those vehicles carrying dangerous materials that were removed from service had violated rules regarding how cargo was loaded and secured. Hazardous materials can include petroleum, gasoline, or biohazards, and are capable of doing widespread harm if involved in an accident or subject to an equipment malfunction.
If you or a loved one has been injured in a large truck accident in New York, find out if you're entitled to money damages by contacting the skilled, knowledgeable, and aggressive Hudson Valley truck accident lawyers at Rusk, Wadlin, Heppner & Martuscello, LLP for a consultation, at 845-331-4100 (Kingston), or at 845-236-4411 (Marlboro).