Annual U.S. Roadway Fatalities Increase for First Time in Five Decades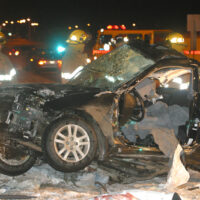 After fifty years of annual decreases in death rates for those riding, driving, or walking on US roads, the National Highway Transportation Safety Administration (NHTSA) reports that early analysis of fatality rates in 2015 reveal a 7.2% increase over fatality rates in 2014.
Based on preliminary data, the NHTSA estimates that 2,348 additional people were killed in 2015 as compared to the number killed in 2014. Injuries relating to accidents increased from 2.34 million in 2014 to 2.44 million in 2015. Bicyclists and pedestrians were the victims of a fatality rate not seen in 20 years; cyclist fatalities increased by 12.2%, and pedestrian rates by 9.5%. Motorcyclist fatality rates also went up by 8% during 2015. Not since 1966 has there been as large an increase in fatality rates year-to-year.
The increase in fatality rates has left many experts wondering at the causes of the increased number of fatalities. The NHTSA, Department of Transportation, and White House have issued a call to action among safety researchers, policy makers, legislators, and data engineers to take a closer look at the issue. The NHTSA has determined that 2015 saw a stark uptick in the total number of vehicle miles traveled, attributed to increased employment rates; more people were commuting to work and had income for leisure driving, and more young people drove in 2015. However, experts wonder why an increase in the number of effective safety features available in new vehicles has not had more of an impact in keeping drivers safe.
While researchers have not yet determined what exactly caused the dramatic uptick in fatalities in 2015, they have identified certain factors which tend to be present in fatal motor vehicle accidents. According to Dr. Mark Rosekind, the administrator of the NHTSA, "the data tell us that people die when they drive drunk, distracted, or drowsy, or if they are speeding or unbuckled. While there have been enormous improvements in many of these areas, we need to find new solutions to end traffic fatalities." Nearly half of all those killed in car accidents were not wearing a seatbelt when they died, and almost a third of all fatal accidents involved at least one driver who was intoxicated at the time of the crash. While the NHTSA data reveals that 10% of all fatal accidents involve a distracted driver, these numbers are based on eyewitness accounts and police reports, and many experts believe it is a dramatic underrepresentation of the true influence of distraction on fatal or serious injury accidents.
If you have been hurt in a New York car or truck accident and need help getting the money you're owed for medical expenses, lost wages, or pain and suffering, contact the Kingston lawyers for car accidents at Rusk Wadlin Heppner & Martuscello, LLP for a consultation, with offices in Marlboro (845-236-4411) and Kingston (845-331-4100).