Appellate Division Looks at Chain Reaction Collision Accidents, and Who is Responsible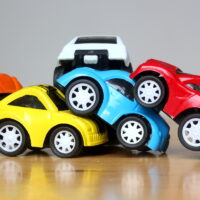 A recent opinion issued by the Second Department of the Appellate Division examined who bears liability, and who doesn't, in a multiple-vehicle accident.
The case in question is titled Hwa Shin v. Correale. In the accident which resulted in the lawsuit, the two plaintiffs, Chuk Hwa Shin as the driver and Chuk Hee Kim as the passenger were riding in the lead car. The middle car was driven by Betty Mazzei, and the third and final car was driven by Rocco Correale. After the collision occurred, Shin and Kim filed a lawsuit against both Mazzei and Correale for their injuries, having no reason to believe that they were not each responsible for the accident. However, Mazzei filed a motion to dismiss the claim against her. She argued that her car was at a complete stop when Correale struck the rear-end of her vehicle, forcing her car into the one containing Shin and Kim. Correale fought Mazzei's attempt to dismiss the claim against her, which would have left Correale as the only defendant.
Under New York law, parties to a multi-vehicle accident have a way to dismiss claims against them prior to trial under certain circumstances. When the driver of the middle vehicle in a multi-car collision can prove that they had come to a complete stop behind the lead vehicle, then that driver will be dismissed from the lawsuit prior to trial if the rear vehicle cannot offer evidence which could prove otherwise. If the middle vehicle was at a stop when the accident occurred, this is seen as a way to show that the middle driver did nothing to cause the crash, and also that the rear driver was following too closely or not watching the road when the accident occurred. In the case at hand, Mazzei was able to present evidence showing that she had come to a complete stop before the accident, and Correale was unable to present evidence which contradicted Mazzei's evidence. The claim against Mazzei was dismissed, leaving Correale as the only defendant to the two plaintiffs' claims.
If you or someone you love has been seriously injured in a multi-vehicle accident in New York, hire an attorney whom you can trust to seek the damages you deserve for your injuries, such as compensation for medical treatment, time spent off work, and pain and suffering, by contacting the Kingston lawyers for car accidents at Rusk Wadlin Heppner & Martuscello, LLP for a consultation, with offices in Marlboro (845-236-4411) and Kingston (845-331-4100).