Appellate Division Rules that More Than One Driver Can Be Held Liable for a Crash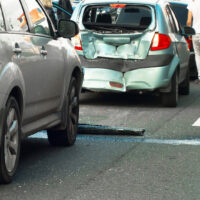 While some accidents are clearly the fault of one driver and one driver alone, others are less clear-cut, due to improper negligent behavior by numerous parties. A recent decision from the New York Appellate Division addressed such a case, finding that a woman who may have been partially responsible for the accident which caused her injuries may continue to pursue claims against the other driver.
The case, titled Hurst v. Belomme, is based on a car crash at a Brooklyn intersection. Makeda Hurst was turning left from the south lane of Flatbush Avenue on to Empire Boulevard when she was hit by Wenzy Belomme, traveling north on Flatbush Avenue. Hurst filed a claim for damages against Belomme, who responded by filing a motion to dismiss Hurst's claims. Belomme argued that Hurst was the sole proximate cause of the accident, and that he bore no liability to Hurst for her injuries.
"Proximate cause" is the term used to describe a cause of an injury which brings with it liability for the actor. In some cases, an event or act may have caused an injury, but the actor was not behaving negligently when the accident occurred, and is thus not financially responsible for the ensuing injuries. For example, if a pedestrian jumped in front of a moving train at the last minute, the train's engineer would not be held liable for that person's injuries, as the engineer had done nothing wrong to cause the accident, and could not have acted to prevent it. The engineer's acts were not the proximate (legal) cause of the injuries. However, if the pedestrian standing on the tracks had long been visible to the engineer, but the engineer had been looking down at his phone until it was too late to avoid a crash, then both the pedestrian and engineer would be proximate causes of the accident.
In the case of Hurst v. Belomme, the court ruled that evidence existed showing negligence both by Hurst and Belomme, making both drivers a proximate cause in the accident. The court's opinion noted that, "[a]lthough a driver with the right-of-way is entitled to anticipate that the other driver will obey the traffic laws requiring him or her to yield, . . . a driver is bound to see what is there to be seen through the proper use of his or her senses and is negligent for failure to do so." In other words, even though Hurst may have made an error by attempting to turn left when she did, Belomme still had a responsibility as a fellow driver to look ahead at the intersection he was approaching and avoid hitting cars in that intersection when he could. Additionally, the court noted that there was evidence that Belomme was not using his car's headlights when he should have been, which also might have been a contributing factor to Hurst turning left when she did. Based on the evidence before the court that Belomme may have been negligent in colliding with Hurst's car, his motion to dismiss Hurst's claims was denied.
As a side note, in cases such as this where an injured plaintiff is partially responsible for their injuries, their award of damages will likely be reduced by the amount for which they were responsible for the accident. In other words, if the court determines in a future trial that Hurst was 50% responsible for causing the accident in which Belomme hit her car, and she was determined to have $40,000 in damages, then she will be permitted to recover only $20,000 in damages.
If you have been injured in an accident in the New York Hudson Valley, contact the seasoned and professional Hudson Valley personal injury lawyers at Rusk, Wadlin, Heppner & Martuscello, LLP for a consultation on your case, at 845-236-4411 (Marlboro), or 845-331-4100 (Kingston).