Bankruptcy and the Residential Lease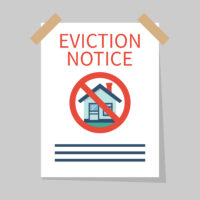 Deciding to file for bankruptcy is a serious choice that should not be entered lightly. That said, bankruptcy offers numerous protections to those who file, including a possible temporary reprieve from eviction proceedings for renters behind on their rent. Bankruptcy also provides renters with the choice to move on from an apartment that no longer meets their needs. Read on to learn about the effects of a bankruptcy proceeding on a residential lease.
How an eviction is affected by bankruptcy
Whether or not an eviction can be postponed or prevented by filing for bankruptcy will depend on many factors. These factors include whether or not your landlord has already initiated eviction proceedings against you, and if so, the stage of those proceedings. If you haven't yet filed for bankruptcy and your landlord has already gotten a judgment of possession from the court, then you'll have a chance to buy more time in your apartment only by asserting that you have a legal right to cure the default. Your attorney can assist you with the process of curing a default, which will include immediately producing any rent payment you'll owe within 30 days, and will also require you to pay any back due rent within a relatively short time after that. The timeline to pay back-due rent will depend on whether you're filing for bankruptcy under Chapter 7 or Chapter 13.
If your landlord has not yet initiated court proceedings to evict you, bankruptcy's automatic stay provision can help prevent an eviction. As explained in an earlier blog post, the automatic stay prevents your creditors from suing you during your bankruptcy proceeding. In some cases, the stay provides a window during which your attorney can negotiate with your landlord to obtain a reduction in the amount of back rent you owe, or change terms on your lease. Your landlord may request that the bankruptcy court provide an exception to the stay so that they can pursue an eviction during your bankruptcy case, but it is uncommon for the court to grant these sorts of requests.
Bankruptcy could provide a way out of leases
If you file for bankruptcy under Chapter 7, you'll have an opportunity to get out of the lease on your rental home without incurring penalties that might otherwise apply. By rejecting the lease on your home during the first 60 days of your bankruptcy case, you will have the opportunity to find a new, more affordable place to live, and to include any unpaid back rent in the unsecured debt that will be forgiven through the bankruptcy process. Speak with your lawyer about how bankruptcy might allow you to escape a burdensome home lease.
If you find yourself in debt and need help finding a path forward, contact the seasoned, knowledgeable, and compassionate Hudson Valley bankruptcy lawyers at Rusk, Wadlin, Heppner & Martuscello, LLP for a consultation on your case, in Marlboro at 845-236-4411, and in Kingston at 845-331-4100.