Becoming a Landlord for the First Time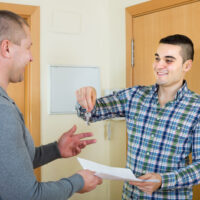 If you're leasing out a home or apartment for the first time, make sure you're prepared with an understanding of the law and best practices for being a successful landlord.
Make sure you use a reliable lease, and remain on the right side of the law
Before you rent, make sure you have a legal right to do so. Certain rules may apply if you own a condo, or if you're a renter wishing to sublet your apartment, that can affect who may rent your home and how long they can do so. While there are many form leases available, when renting your first house or apartment, you want to be able to trust that the lease you use is reliable, represents the current state of the law, and was tailored to your specific needs. Find a New York real estate attorney who is experienced in landlord/tenant law to create a lease for you. Additionally, as you become increasingly familiar with the rules and responsibilities governing landlords in New York, you will want an attorney to turn to with any questions and issues that may arise.
Take care in choosing the right tenant
You may want to try to fill your rental as quickly as possible in order to start generating revenue, but this approach could backfire if you end up selecting an unsuitable tenant. Run a thorough credit check to make sure that they aren't saddled with an unsustainable amount of debt. Call their previous landlords to ensure that they made rent payments on time. Gather several back paystubs to make sure that the rent you're asking doesn't constitute more than 35% of their monthly income.
Check with your insurer about your coverage for renters
Some home insurance limits coverage for subletters to a certain length of time, or only for a certain amount per year. You may also want to take out additional insurance coverage for contents and fixtures in your home, or require your tenant to take out renter's insurance. An attorney versed in rental law can help you select the most appropriate insurance coverage for your situation.
For assistance with drafting a reliable New York lease or renting out a home or apartment in the Hudson Valley, contact Kingston real estate law firm Rusk, Wadlin, Heppner & Martuscello for a consultation at 845-331-4100.