Bill Before Senate Would Require Trucks to Carry Greater Underride Protection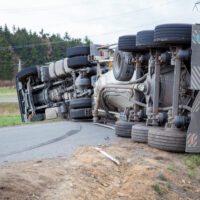 Statistics show that in approximately 80% or more of fatal accidents between tractor-trailers and passenger vehicles, the fatally-injured victims are those in the passenger vehicle, not the truck. One particularly lethal form of tractor trailer accident is the underride collision, and a new piece of legislation currently being considered by the US Senate would require large trucks to carry more protection against these types of deadly collisions. Read on to learn about big rig underride accidents and the potential new law, and contact a seasoned Hudson Valley truck accident lawyer if you've been injured in a crash with a semi-truck or tractor-trailer.
Underride accidents pose lethal danger to passenger vehicle occupants
Underride collisions occur when a passenger vehicle collides with the rear, side, or front of a large commercial truck and slides underneath the vehicle. These types of collisions often result in the roof of the passenger compartment being sheared off the smaller vehicle, or in the passenger compartment simply being crushed. Federal rules mandate that large trucks use rear underride guards to prevent underrides when a truck is rear-ended by a smaller vehicle. However, studies show that rear underride collisions still take lives, either when rear guards aren't in place, or when they're too weak to withstand the force of a crash. The Insurance Institute for Highway Safety (IIHS) looked at 115 crashes where a passenger vehicle struck the rear of a tractor-trailer. In about half of these collisions, the passenger vehicle suffered underride damage, and in 23 of the 28 fatal accidents among the 115 studied, the vehicles had experienced severe or catastrophic underride damage.
Law would require additional underride protection
The legislation currently before the US Senate would require that the mandatory rear guards on tractor-trailers be rated to withstand greater force in the event of a crash. The law would also require trucks to use underride guards on their sides and front ends. The bill's leading sponsor, New York Sen. Kirsten Gillibrand, said, "with so many unpredictable accidents on the road, underride guards are an easy solution for protecting people and preventing them from dying when a car collides with a truck." Laws and requirements for underride guards have not been updated since 1998, and multiple safety organizations have been calling for increasing these protections in recent years.
For assistance getting the damages you're owed after an underride crash in New York, seek an evaluation of your claim from the seasoned, compassionate, and trial-ready Hudson Valley truck accident lawyers at Rusk, Wadlin, Heppner & Martuscello, LLP in Marlboro at 845-236-4411, and in Kingston at 845-331-4100.