Can I get a Divorce if My Spouse Doesn't Want One?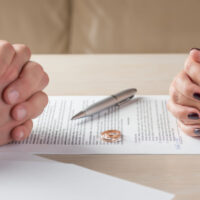 In many cases of divorce, both spouses recognize that the marriage is no longer a happy one and are in agreement that it is time to go their separate ways. But what happens if one spouse doesn't agree to the end of the marriage? Read on to learn about obtaining a divorce in New York where one spouse is opposed, and contact an attorney as soon as possible to discuss how to plan for a divorce when your spouse doesn't want one.
Serving your spouse with a divorce complaint
Your first step in obtaining a divorce is to file a divorce complaint with the court and serve a copy on your spouse. You have a limited window of time to serve your spouse with the divorce complaint and a summons after you file with the court. If your spouse is fighting the divorce process, you should consider hiring a process server. Process servers can make multiple attempts at multiple locations to serve your spouse with the official divorce documents, so that you can get the proof of service you need to move forward with your divorce.
After your spouse is served with the summons and complaint, you will have 120 days to file proof of service with the court, and your spouse will have 20 days to answer the complaint or make an appearance in court on the divorce. Some spouses believe that by not answering the complaint they can prevent the divorce from happening. This is not the case. Should your spouse fail to answer the divorce complaint, you can file for a default judgment on your divorce. When a spouse does not respond to a divorce complaint, divorces by default are barred only where the unresponsive spouse is in the military.
Filing for a default judgment of divorce
Obtaining a divorce by default will require you as the spouse seeking the split to file a number of documents with the court, including an affidavit that the facts listed in your divorce complaint are true, a child support worksheet if you share children with your spouse, and a proposed judgment that lays out how you believe your marital property should be divided and whether spousal support should be awarded. While the filing spouse has an advantage in being able to request the outcome they believe is just (subject to the court's approval), this filing can be complex. Obtaining the help of a seasoned New York divorce attorney is strongly recommended. Additionally, should the nonresponsive spouse decide that they wish to participate in the divorce process after all, they can file a motion to vacate the default judgment, which can lead to a much longer courtroom battle.
For assistance with a dispute before a New York court, including a divorce or custody determination, contact the knowledgeable, compassionate, and effective Hudson Valley divorce attorneys at Rusk, Wadlin, Heppner & Martuscello, LLP for a consultation, at 845-331-4100 in Kingston, or 845-236-4411 four our Marlboro office.