Car Service Driver Found Liable as a Matter of Law for Cutting Off Driver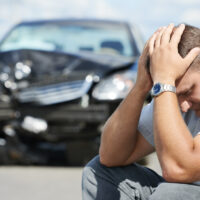 When you're driving on a busy street, being cut off by an abrupt lane change from an impatient or inattentive driver can be startling and frustrating. Not only is it illegal to change lanes without first ensuring that it's safe to do, it's also dangerous. In a recent ruling by a New York Superior Court judge, a driver for a car service was found responsible as a matter of law for injuries he caused to a driver he cut off making a right turn across two lanes of traffic.
The accident prompting the case, Daniels v. Masada III Car & Limo Service Corp., occurred on a section of Ditmars Boulevard in Queens, near the intersection with Astoria Boulevard. Aleksandr Fettser was driving a car for and owned by Masada III Car & Limo Service in the far left lane, while Wanda Phillipson-Price was driving in the same direction in the center lane of the three-lane road. Price had previously seen Fettser's car traveling behind her, to her left. The next time she saw Fettser's car, it was as Fettser was abruptly pulling into Price's lane in order to make a right turn. Having had no time to react, Price was unable to avoid hitting the car. Fettser's passenger filed a claim against Fettser and Masada and against Price for his injuries in the crash. Price made a motion for summary judgment as a matter of law, arguing that Fettser's violation of the New York Vehicle and Traffic Law against changing lanes only when it was safe to do so caused the accident, and that no facts existed to defend or justify Fettser's violation of law. The judge granted Price's motion, ruling that Fettser and Masada were legally at fault for the accident based on Fettser's violation of law. The case will now proceed to determine the amount of damages due by Fettser for the injuries caused.
This case is an example of how an attorney with trial experience can use court rules and procedures to expedite a trial, so that the client can receive full compensation sooner. There are several kinds of motions that can result in certain claims or defenses being dismissed, which will shorten the portion of trial dedicated to determining fault, or result in the lawsuit being dismissed altogether. Under New York law, there are a number of procedural options available to injured plaintiffs in lawsuits based on injury accidents that will result in the defendant being declared liable without going through an extended fact-finding phase, where that liability is obvious and the at-fault party has no substantial defense for their actions. In this case, the at-fault driver broke the law against changing lanes when it was not safe to do so, which resulted in the exact sort of harm the law was designed to prevent, and had no good or defensible reason for doing so. Additionally, there was no evidence that the injured driver did anything negligent or illegal that contributed to the accident or her injuries, making it a clear case for the swerving driver's liability.
If you have been hurt in a car or truck accident in New York, contact Kingston's experienced and trial-ready attorney for auto accidents at Rusk Wadlin Heppner & Martuscello for a free consultation on your claims, in Kingston at 845-331-4100, or Marlboro at 845-236-4411.