Confined Spaces in Construction: OSHA Recognizes the Tight Squeeze on Construction Workers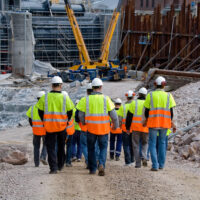 Earlier this year, the Occupational Safety & Health Administration ("OSHA") announced new safety standards and requirements designed to protect construction workers and other workers whose jobs require them to perform work in confined spaces. A confined space is defined as a space that is large enough for a worker to enter but has limited means of entry or exits and is not designed for continuous occupancy. If the space meets this definition, then a permit is required. Confined spaces include manholes, crawl spaces, and tanks, and these spaces are difficult to exit in the event of an emergency. Serious health concerns such as reactions to chemicals, asphyxiation, electrocution, and explosions can occur in these spaces, which is why OSHA stepped in to help protect the safety and lives of construction workers.
Effective August 3, 2015, 29 C.F.R. 1926, Subpart AA ("Confined Spaces in Construction") the new standard requires employers to do pre-entry planning for permitted confined spaces.
These pre-entry requirements include:
Having the worksite evaluated for confined spaces;

Keeping the confined space open only to authorized workers and identifying the entrances/exits, ventilation, and potential hazards;

Testing the air in the confined spaces for oxygen levels and toxins. If the air is not safe for workers, then employers must ensure proper ventilation or whatever is required to make it safe for workers.
The new standard requiring pre-entry inspections/evaluations was promulgated by OSHA to address the inadequacies of worker training alone. Under the old OSHA standard, injuries and fatalities continued to occur on construction sites even though workers had been trained. Under the new standard, even after the pre-entry inspections, employers are required to make ongoing efforts to ensure worker safety. Attendants are also required to be near the open confined spaces to make sure that unauthorized persons do not enter the spaces. Untrained personnel in these spaces can cause injury not only to themselves but to the authorized personnel as well. The highest rates of casualties occur when untrained personnel attempt to perform rescues in these confined spaces. Employers must take affirmative steps to avoid entry of workers into these spaces (when their work does not require them to enter such spaces). Under the new law, workers must also be trained to know about any hazards posed in the confined space as well as the location of such hazards. Employers must train their employees on occupational safety.
Failure of employers to abide by these standards can result in injuries and accidents involving construction workers. New York laws as well as the federal OSHA regulations are designed to protect construction workers. If you or a loved one has been injured in a construction accident, our attorneys can assist you with a free consultation on your case.