Court Looks at Where a Duty to Provide Care Ends for Physicians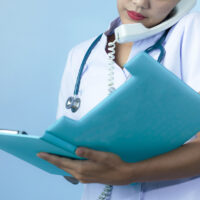 Doctors and nurses have a legal duty to provide care to their patients that is aligned with good and accepted practice in their field of medicine. Should a medical professional fail to provide care that meets this standard, and the patient becomes injured or their condition worsens as a result of this poor care, then the doctor can be held financially liable to the patient. However, medical malpractice claims can become muddled when more than one physician was involved in a patient's care. In a recent case decided by the New York Appellate Division, a patient who was referred to a different medical facility by his doctor filed a malpractice claim against the referring doctor, and the doctor sought to have it dismissed since he was not the most recent medical professional to treat the patient. The court was forced to decide whether the doctor still bore responsibility for the patient's worsened condition.
The case in which this issue arose was titled Lindenbaum v. Federbush. Dr. Richard Federbush was Paul Lindenbaum's primary care physician. When Lindenbaum began to experience serious stomach pain, he sought care from Federbush. Federbush in turn sent Lindenbaum to the Long Island Jewish Medical Center for testing. Lindenbaum received the results of the tests performed by the medical center and faxed them to Federbush the following morning. Federbush told Lindenbaum that he was suffering from colitis. The doctor instructed Lindenbaum to continue taking antibiotics that had been prescribed by the medical center's doctors. Unfortunately, Lindenbaum did not have colitis, but instead had developed an abscess. The abscess worsened and went to Lindenbaum's brain, causing him brain damage.
Lindenbaum's wife was granted power of attorney for Lindenbaum and filed a medical malpractice lawsuit against both the Long Island Jewish Medical Center and Federbush on her husband's behalf. The claims against the medical center were settled separately. Federbush sought to have the claims against himself dismissed, arguing that he no longer had a legal duty to provide care to Lindenbaum after Federbush referred him to the medical center. The trial court agreed and granted the physician's motion to dismiss, and Lindenbaum appealed.
The Appellate Division reversed the trial court's decision and reinstated the claims against Federbush. The court's opinion noted, "[a]lthough physicians owe a general duty of care to their patients, that duty may be limited to those medical functions undertaken by the physician and relied on by the patient." In this case, the court pointed out that Lindenbaum did rely on Federbush's diagnosis and suggested treatment of his condition, reliance which kept him from seeking additional care and ultimately resulted in serious brain damage. The Appellate Division ruled that this reliance on the diagnosis and advice Federbush provided after Lindenbaum sought care elsewhere meant that Federbush continued to have a duty to provide adequate medical care to Lindenbaum, and that the malpractice claims against Federbush could move forward.
If you have been injured by a negligent physician in New York, find out if you may have a claim for money damages against that doctor by contacting the seasoned and effective Hudson Valley medical malpractice attorneys at Rusk, Wadlin, Heppner & Martuscello, LLP for a consultation, in Marlboro at 845-236-4411, and in Kingston at 845-331-4100.