Crash between School Bus and Passenger Vehicle Leaves Two Students Injured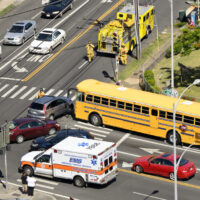 A crash involving a school bus and a speeding car resulted in three injuries, two of which were incurred by students on the bus. The at-fault driver will now face charges in municipal court for her behavior, as well as liability to the victims of the crash. The crash is a cautionary example of the dangerous interaction of reckless speed and winter roadway conditions.
Loss of control due to snow
The crash occurred on the afternoon of Monday, February 13, 2017. The school bus, transporting middle school and high school students from the Saugerties School District in Ulster County, was traveling west on West Saugerties Road. Noel DeFino, 49, was driving her SUV in the opposite direction on West Saugerties at what police believe was an unsafe speed. DeFino hit a patch of snow in the road and lost control of her vehicle. The SUV collided head-on with the school bus and was also rear-ended by a pickup truck. DeFino suffered knee injuries, and two students on the school bus complained of neck injuries, though none of the injuries were believed to be serious. All three were transported to the Health Alliance of the Hudson Valley's Broadway Campus Hospital. Saugerties Police informed local media that DeFino would be charged with speed not reasonable and prudent, as well as failure to keep right.
Speed one of the most common causes of crashes
According to traffic safety experts, one of the factors that is most often associated with accidents is driving at an unsafe speed. The National Highway Traffic Safety Administration has found that speed is a factor in about 30% of all fatal crashes annually. While traveling at a high rate of speed is always unsafe, drivers have a greater responsibility to drive cautiously when winter weather is a factor. If snow or ice are present on the road, even driving at the speed limit may not be safe under the circumstances. Failing to adjust speed to account for current weather conditions can result in drivers bearing even greater liability after a crash.
If you've been injured in an accident with a reckless driver in New York, contact the knowledgeable and seasoned Hudson Valley personal injury lawyers at Rusk, Wadlin, Heppner & Martuscello, LLP for a consultation on your case, in Kingston at 845-331-4100, or in Marlboro at 845-236-4411.