Dealing With Motor Vehicle Accident Form MV-104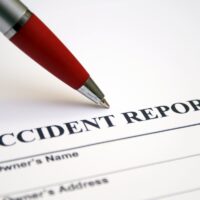 If you've been in a car accident in New York State, you have a number of obligations. If there was property damage or personal injury, you need to stop, render aid, and exchange information with other drivers or parties involved. Depending upon the circumstances, you may need to notify the police, the Department of Motor Vehicles (DMV), and your insurance company. One common form that arises after New York traffic accidents is the MV-104 form. Continue reading for tips on filling out Form MV-104 after a New York car crash, and call a seasoned New York car accident attorney if you or a family member has been injured in a traffic accident in the Hudson Valley
What is MV-104?
New York law requires that a Report of Motor Vehicle Accident (MV-104) be filled out after a qualifying accident. MV-104 requests a variety of information about the accident, including:
Personal identifying information about the person filling out the form
The number of people injured
The nature of the injuries sustained, identified by codes explained in the form
Names of other people involved
Details about property damage
Details about the accident, including the type of accident
Details about the cause of the accident
Insurance information
MV-104 can be extremely confusing and complex. Many of the sections must be filled out by using one of over a hundred numerical codes defined on separate pages. If you're having trouble filling out the form accurately and completely, you are far from alone. An experienced New York car accident lawyer can fill out the form for you, ensuring that you are fulfilling all of your legal requirements and not undermining any potential legal claims or compensation you may have.
Common Questions About the MV-104
Do I Need to File an MV-104?
If you were involved in an accident involving either personal injury, fatality, or property damage exceeding $1,000, you are legally required to file an MV-104 with the DMV. All drivers involved are required to fill out the form.
When Must I Fill Out the MV-104?
You must file the form with the DMV within ten days of the accident.
What Are the Penalties for Ignoring the MV-104?
Failing to file a required MV-104 is a misdemeanor and can lead to suspension of your license and/or vehicle registration.
Can I Get Help With the MV-104?
Yes. The MV-104 is complex and confusing, and you are absolutely allowed to get help. An experienced New York car crash lawyer can help ensure that you fill out the form fully, accurately, and completely, without jeopardizing any of your potential legal claims.
If you or someone you care about has been seriously hurt by a negligent driver in New York, find out if you have a right to compensation for your injuries by contacting the passionate and trial-ready Hudson Valley personal injury lawyers at Rusk, Wadlin, Heppner & Martuscello, LLP for a free consultation at 845-331-4100 (Kingston) or 845-236-4411 (Marlboro).