Defective Heater Causes Home Fire in Kingston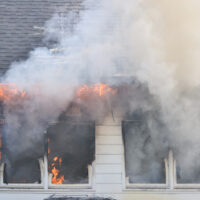 A house fire recently sent one woman to the hospital and caused damage to a Kingston home. The firemen tasked with extinguishing the fire believe that the blaze was spurred by a defective appliance. Read on to learn about how defective wiring can cause fires in the home, and contact a Hudson Valley products liability lawyer if you've been the victim of a dangerous appliance.
Fire in laundry room of Kingston home
The recent local fire occurred in a home on Cedar Street in Kingston. On Saturday, August 5, 2017, firefighters responded to reports of a fire at 8:23 pm. The fire was located in the home's laundry room and had already filled the home with smoke. The sole occupant of the home was taken to the Health Alliance Hospital's Broadway Campus to be treated for smoke inhalation.
The firefighters were able to keep the fire contained to the laundry room and to extinguish it quickly, and they subsequently ensured that flames had not spread through the walls and ventilated the home to air out the smoke. Per an investigation, the fire department concluded that the fire was sparked by an improperly-wired electric space heater. It was not clear whether the space heater was in operation at the time of the fire. The home will now need to be inspected by an electrician to ensure that other wiring in the home is not compromised.
Appliance fires can cause serious damage
According to one study conducted by the Consumer Product Safety Commission, appliances caused over 150,000 residential fires between 2006 and 2008, resulting in some $547 million in property damage. Space heaters are especially prone to causing fires and are deemed responsible for 30% of residential fires. While many appliance-started fires are the result of user error, some result from defects in the appliance's design or manufacture. If a manufacturer has failed to conduct thorough testing of its products before sending them to market and that product causes expensive damage or injuries to a customer, that product's designer, manufacturer, and retailer may be liable for the resulting costs. Many defective appliances end up being recalled, but they can still cause damage if the owner doesn't know about the recall and continues using the item. Be sure to register your appliance after your purchase so that the manufacturer has a direct way of notifying you of a recall.
If you've been injured or experienced property damage in New York due to a defective product, contact the dedicated, knowledgeable, and effective Hudson Valley products liability lawyers at Rusk, Wadlin, Heppner & Martuscello, LLP for a consultation, at 845-331-4100 in Kingston, or in Marlboro at 845-236-4411.