Do Teenagers Get in More Car Accidents Than Adults?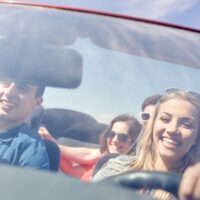 You've likely noticed that your auto insurance rates change over time. If you've had an accident, your rates will shoot up. If you've driven for years with no issues, you might qualify for a reduced rate. Auto insurance companies use a number of metrics to evaluate the risk of a given driver and what rate to charge accordingly. Age plays a significant role. As drivers get older, up to a point, they tend to drive more safely. Does this bear out? Are younger drivers at greater risk of winding up in a car crash? Continue reading for a discussion of accident risk by age, and call a seasoned Kingston traffic accident lawyer for advice and representation after a Hudson Valley crash.
The Stats: Teens Drive Dangerously
According to data from traffic safety experts and officials, it's no myth that teenagers are at higher risk of an accident than adults. In 2019, close to 2,400 teens aged 13-19 were killed in car crashes across the United States. Around 258,000 teenagers were treated in emergency rooms that same year.
It's not just bad luck–younger, less experienced drivers are at a higher risk of winding up in a crash. According to data from the 2016–2017 National Household Travel Survey, as reported by the Centers for Disease Control and Prevention (CDC), drivers are at especially high risk soon after obtaining their license. The crash rate per mile driving is approximately 1.5 times as high for 16-year-old drivers as it is for 18 or 19-year-old drivers.
When compared to adults over the age of 20, the contrast is even starker: Teenagers are fully three times more likely to crash than adult drivers.
The CDC reports that the risk is not static across all teens. Teen male drivers are at significantly higher risk of crashing than female teenagers. In 2019, the motor vehicle fatality rate for male drivers aged 16-19 was more than double the rate for female drivers in the same age group during the same period. Adult men are also more risky drivers than adult women, but the difference is not quite as broad: Adult men cause around 6.1 million car crashes per year, while adult women cause around 4.4 million crashes annually.
Why Do Teens Cause More Crashes?
Many factors play into why teens wind up in more car accidents than adults. Lack of experience is certainly a big contributor–teens, by definition, have only been driving for a short time. Adults tend to have more experience and are thus better at identifying risks and reacting appropriately.
Teens are also more reckless. Teenagers tend to speed more, wear seat belts less, and use electronic devices more while behind the wheel. When alcohol is involved, accidents are significantly more likely; teens are much more likely to get into a crash than older drivers when at the same BAC, even if the BAC would be below the legal limit for adults.
Teenagers are at even greater risk when driving at night, lacking the experience and temperament to drive appropriately. Teens are nearly three times more likely to be involved in fatal nighttime crashes than drivers aged 30-59 when looking at fatal crashes per mile driven.
Experienced and Thorough Legal Assistance With a Hudson Valley Car Accident Claim
If you or someone you love has been hurt by a negligent or reckless driver in New York, find out if you're entitled to monetary damages for your injuries by contacting the seasoned and effective Hudson Valley car accident lawyers at Rusk, Wadlin, Heppner & Martuscello, LLP for a free consultation at 845-331-4100 (Kingston) or 845-236-4411 (Marlboro)