Can New York Bars be Sued for a Drunk Driving Accident?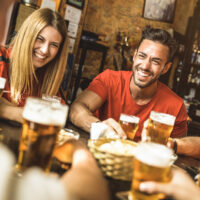 In October 2014, a Syracuse man left a popular local bar while reportedly drunk and high on marijuana.  He drove his car away from the bar and struck and killed a 37-year-old Syracuse mother who was out jogging.  He was sentenced to up to 16 years in prison for manslaughter and for fleeing the scene.  Now, the family of the deceased victim is suing the local bar for allowing the driver to leave the bar drunk and get behind the wheel while intoxicated, allegedly contributing to the woman's death. 
This case raises an interesting question:  Can you sue a bar in New York State if one of their patrons causes a drunk driving accident?  Read on for a discussion of this issue and reach out to a talented New York car accident attorney if you or a family member has been injured in a car crash in the Hudson Valley.
Dram Shop liability in New York
"Dram Shop" liability is a longstanding legal concept that concerns whether a bar or restaurant can be held responsible for the actions of its patrons when the patron is served alcohol at the bar and then goes and causes alcohol-related problems.  Should they be held liable for any accidents caused after a patron leaves?  Should they be liable only if the bartender should have known the patron posed a danger?  Different states have developed different doctrines on this issue.
In New York, bars and taverns may be liable for drunk driving accidents caused by their patrons under certain circumstances.  New York law allows a person injured by a drunk driver to sue a bar if the bar illegally sold alcohol to the intoxicated driver prior to the accident.  The question then turns on what constitutes an "illegal" sale of alcohol.
New York law prohibits a person or establishment from selling alcohol to a patron who is already visibly intoxicated or whom the bar knows is a "habitual drunkard."  In conjunction with the above rule, this means that if a person injured in a drunk driving accident can prove that the drunk driver was visibly intoxicated at a bar before the accident, and the bar continued to serve them alcohol regardless, then the bar will be liable for the accident.  The rule also applies to social hosts who serve alcohol to visibly intoxicated guests. 
Additionally, a New York bar may be liable for a drunk driving accident caused by a minor under 21 years old.  Selling alcohol to a person under age 21 is illegal, even if the minor is not visibly drunk.  If a bar sells alcohol to a minor and that minor causes an accident, regardless of whether the minor appeared intoxicated, then the injured party has a claim against the bar.  Again, the rule also applies to social hosts who provide alcohol to a minor.
Get Professional Legal Help After a Hudson Valley Car Accident
If you or someone you love has been hurt in a car crash in New York, find out if you have a right to compensation for your injuries by contacting the seasoned, talented, and dedicated Hudson Valley personal injury lawyers at Rusk, Wadlin, Heppner & Martuscello, LLP for a free consultation at 845-331-4100 (Kingston) or 845-236-4411 (Marlboro).