Driving Safely Around Pedestrians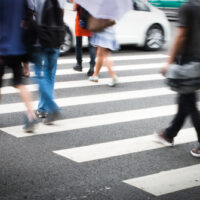 The National Highway Traffic Safety Administration estimates that 14% of all those killed in traffic accidents are pedestrians, and that, every seven minutes, a pedestrian is injured in an accident. While most types of fatal injuries decrease from year to year, the number of pedestrian deaths tends to rise or remain steady.
Important pedestrian safety facts to know
Among accidents resulting in fatal injuries for pedestrians, 70% occurred at non-intersections, largely where a pedestrian was crossing between signals, or a sidewalk was unavailable. Thirty-two percent of all accidents resulting in a pedestrian fatality occurred between 8:00 p.m. and midnight. Alcohol also plays a major role in these accidents. Forty-seven percent of all accidents resulting in a pedestrian fatality involved intoxication on either party's behalf, and 36% of all fatally-injured pedestrians had a blood alcohol level over that of the legal limit.
Pedestrians and drivers both have important roles to play in safeguarding pedestrian safety. Drivers should prepare to stop any time they approach an intersection where pedestrians may be in the crosswalk, and carefully scan and slow down when approaching crossings not at traffic signals. Drivers should exercise great caution in driving near someone who appears unstable on their feet and may be intoxicated, and should call the police if the person seems unsafe to be near the road. Be especially cautious about pedestrians when visibility is low, such as during inclement weather or at night. Pedestrians should take care to follow all rules of the road, crossing only at marked intersections with the signal. Pedestrians are also more visible when walking against the flow of traffic, and should ensure that they have made eye contact with drivers before crossing in front of them. Pedestrians should also wear light or reflective clothing when walking at night, to increase their visibility.
Recent local accidents take the lives of two pedestrians
Two pedestrians were recently killed in local accidents; both in the evening, and along local highways. On Sunday, October 25 at 11:00 p.m., a 26-year-old man from Poughkeepsie stepped into traffic unexpectedly as he walked along U.S. Route 9 in Wappingers Falls. Two separate drivers reported being unable to avoid hitting the man, and he was declared dead at the scene. On Monday the 26th, a 73-year-old woman was hit and killed at 7:00 p.m as she attempted to cross Route 32 in Newburgh. The driver who struck the woman is not being charged at this time, but police are looking for any witnesses and continue to investigate the accident.
If you have been injured in a Hudson Valley car accident as a driver or pedestrian, contact experienced personal injury lawyers at Rusk, Wadlin, Heppner & Martuscello for a consultation, at 845-331-4100 in Kingston or 845-236-4411 in Marlboro.