Electronic Health Records Linked to Patient Harm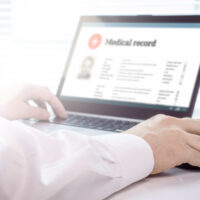 A new in-depth look at the effect of electronic medical records has found that, despite the high costs involved, digitized records may have caused more harm to patient health rather than help. Learn more about the investigation into the effect of electronic medical records below, and contact a New York medical malpractice attorney if you've been harmed by medical error.
Problems with electronic health record software lead to patient harm
About ten years ago, the US began digitizing patient medical records. Experts believed that this would make it easier for doctors to access and maintain accurate records of a patient's condition, treatments, prescriptions, and allergies. Unfortunately, this has not been the case. Recently, Fortune Magazine published an exhaustive study of the impact of electronic health records, conducted by journalists at Kaiser Health News and Fortune. The report contains numerous harrowing stories of patients whose lives were imperiled as the result of technological glitches within the software or poor design features that made it harder for doctors and nurses to do their jobs.
Some software never transmits requests for lab tests
One serious issue that features in many lawsuits filed by patients against the makers of electronic medical record software is a failure to transmit requests for lab tests. In one case, a woman had come to her doctor on two separate incidents reporting serious headaches. Her doctor had requested that the woman receive a brain scan to find out whether she was experiencing a bleed on the brain, indicating that she could experience a brain aneurysm. While the doctor entered the lab request into the record management software, the request was never transmitted, and the test never completed. The patient died of a brain aneurysm shortly thereafter. In another case, a young boy who had scratched his arm at school was discharged from the hospital, but a lab test for sepsis that was entered in his electronic record was never completed. The boy soon died of a sepsis infection.
Critical patient information hidden behind menus or lost in volumes of text
Another shortcoming of many electronic medical record systems is the manner in which patient information is presented to physicians. While the doctor may technically be able to see the patient's allergies or medical history in the record, finding that information amidst dozens of drop-down menus and screens filled with information, while hurrying to assist a patient in distress, may feel impossible. In one case, a girl with a severe dairy allergy was given a probiotic that contained milk, an allergy that the physician had not noticed in her electronic medical record. The girl experienced so severe an allergic reaction that her lung collapsed. While physicians bear some responsibility for these incidents, as well, defects in the design of medical record software play a substantial part.
One private research firm found 18,000 incidents of serious problems with electronic health records between 2007 and 2018, with three percent of those incidents causing harm to a patient. Other studies of medical record software systems found major problems with the rates at which the software flagged harmful drug interactions, as well as a high frequency of mismatching a patient with their medical records.
Few reports of the shortcomings of electronic medical records make it to the news. This is in part due to the confidentiality agreements that software manufacturers force on the hospitals and physicians who work with their products. In many cases, the only way that this information comes to light is when patients file lawsuits against doctors and software manufacturers after a serious or fatal injury.
If you've suffered a major injury as the result of a medical mistake by a New York hospital, physician, or nurse, contact the effective and experienced Kingston medical malpractice lawyers at Rusk, Wadlin, Heppner & Martuscello for a free consultation at 845-331-4100, with additional offices in Marlboro at 845-236-4411.