Employer Can Face Lawsuit for Accident Caused by Employee Near Company Property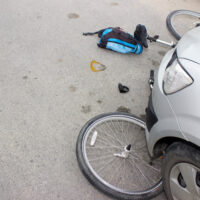 Most premises liability lawsuits are based on accidents occurring on the defendant property owner's land, where the owner allowed hazardous conditions to exist knowing that visitors would be using the property. In a case based in New York's Tompkins County, a judge was asked to decide whether a property owner could bear liability for an accident that occurred on neighboring property, and not on the owner's property itself. The judge found that an accident victim could, in fact, pursue a claim against that property owner.
Based on a fatal accident, the case in question is Giannelis v. Borg Warner Morse Tec, Inc. Harriet Giannelis was riding her bike on Warren Road, which ran along the Borg Warner property. As she passed the feeder road that merged into Warren Road from the Borg Warner gate, she was struck and killed by Borg Warner employee Kelly Elliott. The executor of Harriet's estate, Emmanuel Giannelis, filed a lawsuit against Elliott and Borg Warner for money damages.
Borg Warner filed a motion to dismiss Giannelis' claim through a motion for summary judgment, arguing that it had no legal responsibility to try and keep people safe who weren't on their property. Giannelis countered this argument by pointing out that Borg Warner did bear some legal responsibility for Harriet's death by creating a dangerous condition at its exit gate. Giannelis presented evidence that the gate itself was faulty; that Borg Warner had failed to instruct employees on how to exit the gate safely as it had done for other gates on its property; that it had allowed shrubbery to obscure exiting employees' view of traffic; and that it had installed a yield sign rather than a stop sign, giving employees the impression that they did not need to stop when exiting.
Ultimately, Judge Faughnan sided with Giannelis, dismissing Borg Warner's motion and permitting the claim to move forward toward trial. The judge agreed that, in general, property owners don't owe a duty to members of the public passing nearby to keep their land safe. However, there is an exception where a property owner creates a dangerous condition that presents a hazard to those near, but not on, the property. In this case, Judge Faughnan agreed that Giannelis had presented sufficient evidence of Borg Warner's negligence in maintaining their exit gate to support a claim against the company.
The judge noted that Borg Warner had a chance to use its substantial influence over its workers to instruct them in how to check for oncoming traffic before using the ramp to merge onto Warren Road, but had not done so. Additionally, by posting a yield sign rather than a stop sign, the judge concluded that Borg Warner may have made the cars exiting its gate more dangerous to outsiders, since employees would be less likely to think they needed to come to a stop than if there was no sign posted. The claim against Borg Warner will now move forward toward trial.
If you've been injured in a bicycle accident or other motor vehicle accident in New York, find out if you're entitled to money damages for your injuries by contacting the compassionate and professional Hudson Valley personal injury lawyers at Rusk, Wadlin, Heppner & Martuscello, LLP for a consultation, at 845-331-4100 (Kingston), or at 845-236-4411 (Marlboro).