Erratically-Driven Tractor-Trailer Collides with Bridge Abutment in Ulster County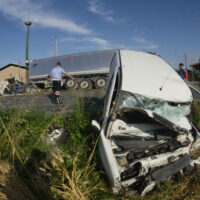 An accident on the Thruway in Rosendale involving a tractor-trailer resulted in serious injuries for the truck driver, potential damage to a bridge, and an hours-long closure of the highway.
According to witnesses, a tractor-trailer was driving erratically along the Thruway and had been reported to local law enforcement. At approximately 8:30 pm, the large truck left the roadway, striking a bridge abutment supporting the path of Route 32 over the Thruway. State police report that the driver was airlifted to Westchester Medical Center in Valhalla, and had suffered a massive trauma in the accident. The section of the Thruway with exits to New Paltz and Kingston was closed until approximately 11 pm. Safety inspectors evaluated the bridge supporting Route 32 to ensure that it was stable enough to support traffic.
Erratic driving by large truck and tractor-trailer drivers isn't only threatening to the drivers themselves; it threatens passenger vehicle drivers, pedestrians, and even public infrastructure, as was the case in the recent Rosendale crash. The investigation is still ongoing as to what caused the trucker in this case to drive erratically. That said, the causes of erratic driving among passenger vehicle drivers, such as intoxication and distractions posed by electronic devices, also cause erratic driving among commercial drivers. According to one study conducted by the Federal Motor Carrier Safety Administration, distracted driving in particular is on a steady rise. In Fiscal Year 2014, the FMSCA reported that 1,364 inspections conducted on commercial motor vehicle drivers resulted in a citation for texting while driving. This was a 45% increase over the number of such citations in 2013. While driving distracted is a massive safety concern when committed by passenger vehicle drivers, this issue becomes even more of a threat on the road when committed by drivers of massive vehicles capable of doing enormous damage.
If you or someone you love has been injured in a truck accident involving a semi-truck, tractor-trailer, or big rig, contact the knowledgeable and experienced Hudson Valley truck accident litigators at Rusk, Wadlin, Heppner, & Martuscello for a consultation on your claims, in Kingston at 845-331-4100, or in Marlboro at 845-236-4411.