Falls on Construction Sites a Top Source of Injury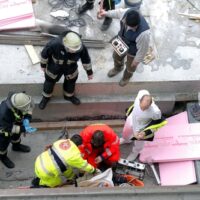 Construction workers take a lot of risk on the job site, working with dangerous equipment in unstable environments. In fact, out of all workplace deaths in the US, one in five occurs on a construction site. An Occupational Safety & Health Administration (OSHA) study examined the causes of all deaths occurring on construction sites in 2013. Among the 796 deaths that occurred on-site, 284 of those were caused by falls, making it the most common cause of fatal injuries on worksites.
OSHA regulations include many strict rules intended to protect workers against falls—regulations which OSHA job site inspectors report to be one of the most common sources of safety citations issued. On the job site, employers must protect employees from all known dangers, including by protecting them from falls down holes in floors, elevated platforms and runways, or shafts. Employers must ensure that protective guardrails or nets are installed around or over areas where a fall could occur. Guardrails or coverings must also be installed over vats of liquid which could cause injury where contact is made with a worker's skin.
Safety equipment such as guardrails may be rented from and installed by a third party vendor. If this equipment is negligently manufactured or installed and an accident results, then an injured worker may have a claim against that third party for their medical expenses, lost work, and pain and suffering. Additionally, employers must keep floors free of any materials or liquids which could cause a serious fall, and should train employees on good safety practices and hazards unique to that job site, as well as provide employees with the safety equipment they require to stay injury-free on the site.
If you are concerned that these standards and regulations are not being followed on your job site, you are entitled to file a complaint with OSHA or request a site inspection, and you are legally protected from retaliation by your employer for doing so.
If you have experienced an injury on the job in the Hudson Valley and need help to receive all compensation owed to you, contact the knowledgeable and experienced construction accident attorneys at Rusk, Wadlin, Heppner & Martuscello for a free consultation on your claims, at 845-331-4100 in Kingston or 845-236-4411 in Marlboro.