Families of Victims of Toppling Furniture Settle with Manufacturer for $50 Million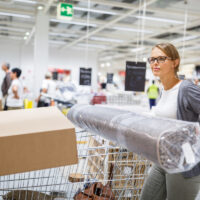 Over the summer, Swedish furniture manufacturer IKEA conducted a gigantic recall of furniture believed to pose a risk of injury. Now, the company has settled with several victims of its defectively-designed products for $50 million.
IKEA has come under fire in recent months not only for its manufacture of bedroom furniture, but also for its reaction to reports that the furniture caused injury. The Consumer Product Safety Commission (CPSC) began receiving a troubling number of reports that IKEA's MALM line of dressers, along with other products, were prone to tipping over, especially onto small children playing near the furniture. Some of the injuries reported were, in fact, fatal. At first, IKEA responded to these reports by offering those with MALM dressers a kit designed to anchor the dressers to the wall. However, under pressure from the CPSC due to the fact that many IKEA furniture owners were continuing to experience injuries due to the topple risk, the furniture manufacturer issued a recall for some 29 million pieces of furniture from the MALM line, as well as others.
According to records maintained by the CPSC, at least four children have been killed after being crushed by IKEA furniture pieces, with 17 additional injuries to children between 1 and 10 years old. Three of the four families who lost a child when an IKEA dresser toppled onto them filed lawsuits against the company. They claimed that the manufacturer has long been aware of the tip-over risk posed by its furniture, but failed to take action to correct the problem until forced after numerous deaths and serious injuries. The manufacturer settled with the three families in recent weeks after courts forced IKEA to turn over documents they had fought to keep private, and which lawyers for the victims claimed provided a smoking gun regarding IKEA's knowledge of the risks posed by their products. The settlement agreement provided that the plaintiffs would not disclose the documents publicly, but that IKEA would still be forced to retain copies of the documents in the event that there were additional victims of the dressers who filed suit against the manufacturer.
If you or someone you love has been injured by a defective or dangerous product in New York, find out if you have a claim for money damages based on your injuries by contacting the effective and determined Hudson Valley products liability lawyers at Rusk, Wadlin, Heppner & Martuscello, LLP for a consultation on your injuries, in Marlboro at 845-236-4411, and in Kingston at 845-331-4100.