Fatigue Cited as a Factor in Fatal Crash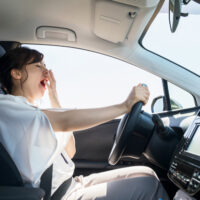 A recent local accident resulted in multiple injuries, including the death of a motorcyclist. Law enforcement have said that fatigue may have been a factor in the crash.
Head-on crash on State Route 55
The recent crash occurred on State Route 55 in the Dutchess County Town of LaGrange. The crash occurred on September 26, 2017 at 7:30 am. The driver of a 2009 Mazda was traveling west when she crossed over the center line. The car hit a 1998 Kawasaki motorcycle that was heading in the opposite direction. The Mazda then swerved back into the westbound lane and hit a 2004 Toyota sedan. Both the motorcyclist and the driver of the Mazda were injured in the incident. Sadly, the motorcyclist was declared dead at the scene of the accident. The Mazda driver was taken to MidHudson Regional Hospital and was expected to survive her injuries. The driver was not charged at the time, but police believe that fatigue may have been a factor in the crash.
Millions of drivers admit to driving while drowsy
Driving while drowsy is a more dangerous behavior than many drivers believe. A study conducted by the National Sleep Foundation found that 60% of US adult drivers had driven while drowsy in the previous year. 37% of drivers confessed that they had even fallen asleep while driving, and of that 37%, 13% have fallen asleep behind the wheel at least once a month. Four percent of all drivers have gotten in an accident or had a near-miss when driving while drowsy or after falling asleep.
According to the National Highway Traffic Safety Administration, there are about 100,000 police-reported crashes every year that are caused by drowsy driving, resulting in 1,550 fatalities and 71,000 injuries. Experts believe that this number may be an underrepresentation of the number of fatigue-caused crashes, since there is no way to test a driver for fatigue after a crash, and drivers may not admit to having fallen asleep before a crash. Countries that have more consistent and reliable methods for tracking the causes of traffic accidents find that between 10-30% of all crashes are caused by driver fatigue. Drivers have a legal duty to pull off the road if they feel that they are too drowsy to drive, and they can be held liable for causing serious injuries when falling asleep behind the wheel.
If you've been injured in a New York traffic accident caused by a drowsy, intoxicated, or otherwise dangerous driver, find out if you have a right to sue for money damages by contacting the seasoned and dedicated Hudson Valley personal injury lawyers at Rusk, Wadlin, Heppner & Martuscello, LLP for a consultation, in Marlboro at 845-236-4411, and in Kingston at 845-331-4100.