Federal Automotive Safety Body Creates New Standards for Evaluating Car Safety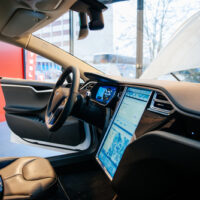 New safety technologies are constantly being added to cars, including front and rear crash warning systems, rear-view cameras, automatic braking, and lane departure warning. However, there is often a lag between the introduction of these technologies to the market and conclusive research about whether these features actually make us safer on the road. The National Highway Traffic Safety Administration (NHTSA) hopes, with its revised New Car Assessment Program, to provide a better idea of how big of a safety improvement these new technologies are, as well as offer a testing system that will provide consumers with evaluations of new technologies faster than ever. The revised rating system is currently available for public comment, and is expected to become the standard used to rate new cars for model year 2019.
The NHTSA has provided five-star safety ratings to all new cars each year since 1978. Up until now, the rating has focused on the performance of cars in three different types of crash: frontal, side, and rollover. The NHTSA star rating for each new car is displayed on a sticker on the windows of new cars and is also available online in the NHTSA database. The revised testing system will, for the first time, include an evaluation of new crash avoidance technologies within the five-star rating, as well as protection offered to pedestrians by the vehicle. The tests will include a look at the injuries incurred to pedestrians' heads, legs, and pelvic areas as a result of being struck by the tested car. The NHTSA will use advanced new crash test dummies, including the Test device for Human Occupant Restraint (THOR) and WorldSID. These devices will offer a much more complete picture of what happens to bodies involved in an accident. Researchers will now test the effects of a front oblique crash, as well as conducting an improved frontal barrier crash test. Ratings will now include half-star increments as well, to offer consumers a more accurate picture of the differences in safety between vehicles.
If you have been hurt in a New York car accident and wish to have experienced, diligent legal help on your side to ensure you're fully compensated for your claims, contact a seasoned traffic accident lawyer at Rusk Wadlin Heppner & Martuscello for a consultation on your claims, at 845-331-4100 in Kingston or in Marlboro at 845-236-4411.