Federal Class Action Lawsuit Highlights Dangerousness of Hoverboards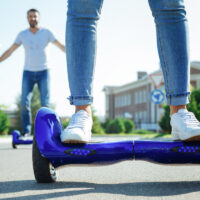 They were one of 2015's most popular holiday gifts, but there has been some alarming news about hoverboards in recent weeks. The motorized, self-balancing scooters have been associated with numerous dangers—not only to those riding the devices, but also to the homes in which they're being charged.
If you've never seen one being ridden around the sidewalks of town, you should know that hoverboards don't actually hover. Like a horizontal skateboard, the boards have two wheels on either side of two foot pedals, which riders control with subtle shifts in body weight to roll forward, backward, or to turn to the left or right. While many hoverboards are limited to 5-7 mph, some can travel at between 12 and 15 mph. The devices can come with a steep price tag—starting at $300 for low-end models, but climbing to $1000 for the most advanced hoverboards.
As the popularity of hoverboards grew over the latter half of 2015, concerns began to mount over their safety, both in public and at home. New York City has classified the scooters as motor vehicles which are illegal to register, and being caught riding one can come with a steep fee. Riding hoverboards is similarly illegal in London. Many universities and shopping malls have banned riding the devices, due to collision and fall risks.
Of even greater concern to many safety agencies is the threat of fire and explosion which the boards seem to pose. The Consumer Product Safety Commission has received at least 22 reports of fires being started by the devices while they charging. One New York man has filed a class action lawsuit in federal court against hoverboard manufacturer Swagway, on behalf of consumers who suffered property damage when their charging hoverboards burst into flames. The man had purchased a hoverboard for his daughter as a Hanukkah present and, during the hoverboard's first charge, the device caught on fire in his home. Another Alabama couple has filed a lawsuit against the store where they purchased their hoverboard which also burst into flames, damaging their home. Owners of hoverboards are encouraged to closely monitor hoverboards while they charge, and to speak with an attorney as soon as possible should they experience injury from a hoverboard.
If you or a loved one have been injured by a hoverboard or other dangerous product in New York, contact the knowledgeable Hudson Valley personal injury lawyers at Rusk, Wadlin, Heppner & Martuscello for a consultation on your claims, at 845-331-4100 in Kingston or 845-236-4411 in Marlboro.