Federal Regulators Introduce Rule Which Would Make Speed-Limiting Devices Mandatory in Large Trucks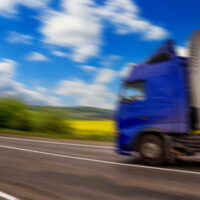 The National Highway Traffic Safety Association (NHTSA) and Federal Motor Carrier Safety Administration (FMCSA) have recently presented similar rules for public comment that would force large commercial vehicles to travel at reasonable speeds. The rules would make it mandatory for all new commercial vehicles weighing 26,000 lbs or more to come equipped with speed limiters, forcing the vehicles to travel at 60, 65, or 68 mph, depending on the final version of the rules that are adopted. The rules are currently available for public comment prior to being finalized.
US Department of Transportation Secretary Anthony Foxx described the life-saving and climate-saving benefits provided by speed limiters, labeling them "a win for safety, energy conservation and our environment." "Based on the agencies' review of the available data," Foxx stated, "limiting the speed of these heavy vehicles would reduce the severity of crashes involving these vehicles and reduce the resulting fatalities and injuries." NHTSA administrator Mark Rosekind called the rule "basic physics." "Even small increases in speed have large effects on the force of impact. Setting the speed limit on heavy vehicles makes sense for safety and the environment," he said.
Even trucking industry representatives welcome the establishment of this rule. Many transport companies have long used speed limiters in their trucks and are glad to see the devices being made mandatory across the industry. "We are pleased NHTSA and FMCSA have, almost 10 years after we first petitioned them, released this proposal to mandate the electronic limiting of commercial vehicle speeds," said Chris Spear, president and CEO of the American Trucking Association. "Speed is a major contributor to truck accidents and by reducing speeds, we believe we can contribute to a reduction in accidents and fatalities on our highways."
About one in ten fatal accidents involves a large truck, and about 40% of all accidents involving large trucks occur at speeds between 60 and 75 mph. Since a fully-loaded tractor-trailer can weigh over 80,000 lbs, these vehicles require a great distance to bring to a complete stop. This distance becomes even longer when the trucks are traveling at high rates of speed. For example, when a fully-loaded truck is traveling at 65 mph, it requires a 50% longer braking distance to come to a stop than does a truck moving at 55 mph. Speed limiters have been shown to have a substantial and positive impact on fatality rates. Trucks without the devices have a crash rate of 16.4 per 100 trucks, while trucks with the devices see that rate decline to 11 per 100 trucks.
For help getting the money damages you may deserve after a New York accident with a bus, tractor-trailer, or other large commercial vehicle, contact the skilled, compassionate, and trial-ready Hudson Valley personal injury attorneys at Rusk, Wadlin, Heppner & Martuscello, LLP for a consultation on your case, in Marlboro at 845-236-4411 or in Kingston 845-331-4100.