General Mills Expands Recall of Flour Contaminated with E. Coli Bacteria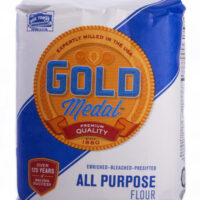 The ongoing recall of certain flour products by General Mills was expanded once again in late July to include an increasing number of products. All of these products are suspected of being contaminated with E. Coli, a bacteria which can cause serious medical conditions and even death. The danger is most likely to occur from eating raw flour or uncooked dough, but to be safe, customers who find the recalled products in their homes should throw them out and not use them at all.
Dozens of cases of illness, including several requiring hospitalization and at least one reported instance of kidney failure, have been linked to the tainted flour products since December of last year. However, it wasn't until the end of May that General Mills initiated the recall, which included several different sizes and varieties of Gold Medal, Wondra and Signature Kitchens Flour originating from a Kansas City plant.
More than 45 cases have been reported nationwide, including at least one case in New York. The addition of several new cases after the initial recall prompted General Mills to expand its recall to include more sizes, varieties and production dates. The latest and most comprehensive list of recalled products can be found at this webpage maintained by the Centers for Disease Control and Prevention. The CDC and the FDA are both monitoring the recall, and you can also view information about the recall, including pictures of recalled products, at the General Mills website here.
Like other manufacturers of consumer products, food manufacturers are responsible to only put safe products on the market. Food manufacturers can be held strictly liable for contaminated or otherwise defective products that cause harm to an individual. Strict liability means that an injured plaintiff does not have to prove that the manufacturer was negligent in order to recover compensation for medical bills, pain and suffering, and other legal damages. It is enough to prove that the product was defective when it left the manufacturer's control, which then caused injury to the purchaser or end user.
If you or a family member has been sickened or poisoned by a contaminated food product, contact the Hudson Valley product liability attorneys Rusk, Wadlin, Heppner & Martuscello, LLP for a free consultation about your potential claims. Our dedicated and compassionate personal injury lawyers can be reached in our Kingston office at 845-331-4100, or in Marlboro at 845-236-4411.