Generating Positive Feelings for a Co-Parent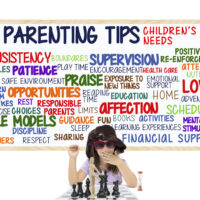 Co-parenting with a former spouse can be a challenge, especially if your relationship is acrimonious. Having to interact regularly with someone who makes you mad is more than unpleasant; the stress of the relationship can have a deleterious effect on your health, and your children are bound to suffer negative effects from being caught in between. It may not be easy, but consider following some of the suggestions below to generate more positive feelings toward your co-parent, both for your own sake and that of your children.
Tell your kids a positive story about their co-parent
Sometimes, we just have to fake it until we make it. If you're struggling to feel anything but frustration or anger toward a co-parent, telling your children something positive about them might help to change how you feel. Studies have found that, by saying positive things about a person or thing, even if they're not entirely heartfelt, we'll end up feeling more positive toward the subject of our praise.
Remain positive about your ex, even if your spouse isn't singing your praises
You may not feel very charitable towards a co-parent who appears to be telling your children negative things about you. It's tempting to fight fire with fire by exposing your ex's failings to your children, or discussing the slights your ex has visited upon you. Try to avoid this temptation. You can't control what your ex tells your children when you aren't around, but you can control what sorts of presence you are in your children's lives. Your kids will benefit from being around a positive, uplifting parent who finds the bright side to a difficult situation. Eventually, your co-parent may stop trying to turn your children against you if they realize that they're only fighting with themselves.
Gratitude can help you feel more warmly toward your co-parent
It may feel as though your co-parent goes out of their way to make your life more difficult sometimes, by changing the custody exchange schedule, showing up late for hand-offs, or being unwilling to compromise on decisions about your children. But research shows that gratitude can make us more empathetic and positive toward the person for whom we find reasons to be grateful. Even if they're small, try to find reasons to be grateful for your co-parent, such as appreciating the fact that they always take your children to early Saturday morning soccer practice, or that they helped your kids with their science projects at the last minute.
If you're in need of skilled and experienced help with a New York divorce, contact the Hudson Valley family law attorneys at Rusk, Wadlin, Heppner & Martuscello, LLP for a consultation, at 845-331-4100 in Kingston, or in Marlboro at 845-236-4411.