Getting Into an Accident With a USPS Mail Truck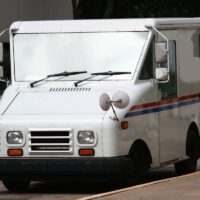 U.S. Postal Service trucks are a common sight on roads in New York and across the U.S. We typically see them stopped on streets, doling out our physical mail and packages. Obviously, mail trucks spend a significant amount of time on the road. We rarely hear about accidents involving USPS mail trucks, however. Is that because they never happen? Or is it just seldom discussed? If you do find yourself in an accident with a USPS truck, what are your options? Can you sue the driver, or the federal government? Continue reading to learn about USPS mail truck accidents, and if you find yourself in a wreck with a mail carrier or any other negligent driver in the Hudson Valley, call a seasoned Kingston truck crash lawyer for advice and assistance.
Are Mail Truck Accidents Common?
We don't hear about accidents involving postal carriers very often. Most people would be shocked to learn that accidents with USPS mail trucks are very common; not even just thousands, but tens of thousands of accidents involving mail trucks happen every year. According to USPS safety reports, in 2019 alone there were 29,000 USPS vehicle accidents. Of those 29,000, around 13,000 occurred while the truck was traveling in a straight line. Accidents with USPS mail trucks are thus a very real concern, and it's important to know what to do if you find yourself recovering from a USPS mail truck crash.
Can You Sue the Government After a USPS Mail Truck Accident?
Suing the government is a tricky prospect. The federal and state governments generally enjoy what is known as "sovereign immunity," meaning immunity from lawsuits. Immunity is limited by the laws the federal and state governments choose to pass. Thankfully, the government understands that it's only fair that it should be liable for the injurious actions of its agents under many circumstances.
When an agent of the federal government causes injury to someone through their negligence, the victim can pursue an injury claim via the Federal Tort Claims Act (FTCA). The FTCA operates differently from state personal injury law, imposing different time limits, notice requirements, legal standards, and evidentiary burdens. If you've been in a crash with a negligent USPS driver, it's important to work with a knowledgeable traffic accident lawyer who knows how to navigate claims against federal officials. Act fast in order to preserve your rights.
What Should I Do After a USPS Accident?
If you've been in an accident with a USPS truck, you should generally do the same things you would do after an accident with anyone else. The first important steps you'll want to take include:
Get to a doctor, or a hospital for a serious injury, ASAP
Exchange contact information with the USPS driver
At the scene, take photos of the vehicles, your injuries, and the surrounding area
Get contact information from any witnesses
Make sure law enforcement comes to the scene to investigate
Call an experienced New York car accident lawyer for assistance
You'll need to prepare to file a claim with the federal government, and you can expect that they may disagree with your assessment of responsibility and the amount of damages you believe you are owed. You and your attorney will work to build your case and either secure a favorable settlement or take the case to trial. Just because the defendant is the government does not mean they can get away with causing you serious injury without paying you for the damage they caused.
Get Trusted Legal Help After a Mail Truck Crash in the Hudson Valley
If you or someone you love has been injured in a traffic crash in New York, you need the help of a seasoned and effective car accident injury attorney to get the damages you deserve. Contact a qualified Hudson Valley truck accident victim attorney at Rusk, Wadlin, Heppner & Martuscello, LLP for a free consultation at 845-331-4100 (Kingston) or 845-236-4411 (Marlboro).