Graco Recalls Popular Car Seat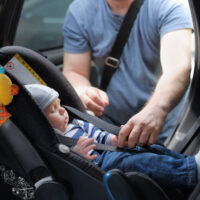 As a parent, you may find it nerve-wracking to drive with your young child in the car. The road can be a dangerous place, and there's only so much you can do to reduce the risk of an accident occurring. One way to keep your child safe is by purchasing a high-quality car seat from a well-known and respected manufacturer of child safety equipment. When that product fails to work as promised, however, your child may be at risk for an even more serious injury should you be involved in an accident. Safety product manufacturer Graco recently issued a substantial recall of tens of thousands of its car seats after testing revealed flaws in the products.
The recall, issued by Graco through the National Highway Traffic Safety Administration (NHTSA), includes over 25,000 car seats, manufactured under the My Ride line of seats. The NHTSA conducted tests on the My Ride seats to ensure that they met federal standards for safety, and notified Graco as far back as March of 2016 that a model of My Ride seat failed their tests. Graco claims to have tested the seats but failed to uncover any issues in its own tests. When the NHTSA notified Graco again in April of 2017 that further tests on the My Ride seat revealed problems with its ability to restrain occupants, Graco decided to issue a recall of the seats. According to the recall notice, there is a problem with the webbing used in the restraining harness. Customers with an affected car seat can receive a replacement harness from Graco free of charge.
Customers are at a disadvantage when it comes to determining whether or not a product is safe and able to work as promised. Consumers must rely on manufacturers and retailers to uphold their legal duty to provide products that are safe and effective for their intended use, and which will perform as promised. When a customer is injured by a defectively designed or manufactured product, that customer may have a claim for money damages from both the manufacturer and retailer for selling the dangerous item. A skilled New York products liability lawyer can help you determine whether you have a claim for money damages after you're hurt by a defective item.
For assistance after a New York injury accident, contact the seasoned and dedicated Hudson Valley personal injury lawyers at Rusk, Wadlin, Heppner & Martuscello for a consultation, at 845-236-4411 in Marlboro, or in Kingston at 845-331-4100.