How Do Police Investigations for Fatal Car Accidents Work?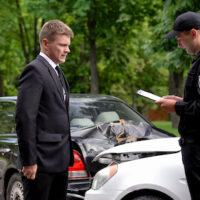 Following a car accident, police officers, investigators, and medical professionals may be dispatched to the scene to observe, assess, and document what happened, and treat those who are injured.
But what happens when that car accident becomes fatal? The process is much the same, but additionally, a thorough investigation takes place to determine criminality and who was responsible for the fatal wreck.
If you have lost a loved one following a car or truck crash, understanding these processes is important to protect your family's right to obtain justice and accountability from the responsible party. Knowing that a thorough investigation has taken place will allow you to seek legal action accordingly. Read on to learn more about how police officers investigate fatal car accidents after they occur.
Interviewing Drivers and Witnesses
As part of the initial assessment, police officers will collect the personal information of those involved, as well as witnesses and others who observed or were near the accident when it occurred. This information can be later used to more fully interview witnesses and create a detailed picture of how the accident occurred.
The drivers and other parties involved in the crash will also be interviewed. An initial interview will take place when the accident occurred, but it's common for police officers and investigators to follow up with the drivers and other parties involved in the car accident at a later date.
Collecting Documentation and Evidence
The collection of evidence following a car accident begins the moment police arrive on the scene. Investigations can last weeks if not months, and throughout this time, police officers will continue to collect evidence. Evidence can be collected in the form of:
Witness, driver, and victim statements
Surveillance footage
Other physical evidence
Photographs will also play a big role in the collection of documented evidence. Photographs of the victim's body and location, skid marks, and vehicle damage will all be taken in order to recreate the incident at a later time. Additionally, measurements pertaining to the car accident and the environment will also be noted for future reference.
Working in tandem with police officers are accident reconstructionists. Accident reconstructionists are professionals who typically conduct or even lead these types of accident investigations. Using the laws of physics and engineering, accident reconstructionists can create a detailed explanation of how the accident occurred and what contributing factors were involved.
Documenting Vehicle Damage
Damage to vehicles involved is important to understanding the events that led to a car accident. Police officers and investigators will often take multiple photographs of the vehicles involved. Vehicles might also be transported to a secure location where they might be subjected to further analysis; however, this is not always the case.
Detailing Conditions That Led to the Crash
An important aspect of the investigation is understanding what caused the crash to occur in the first place. Police officers and investigators will create a thorough outline of present conditions that might have caused the crash. This can include noting:
Skid marks
Weather conditions
A vehicle's condition prior to the accident and if that condition caused the accident
Whether speeding was involved
Whether drugs or alcohol were involved
Creating a Police Report
After a thorough investigation, the police will create a report that outlines in detail what likely caused the car accident to occur, what damage was sustained, what witnesses were present, and other information relating to the car crash.
This police report is critical to relaying information about the crash. The police report can be used by legal teams and brought up in court to relay the events that happened that caused the death of the victim. After a police report is drawn up, all parties involved in the crash can have access to the police report as well.
Determining Criminality
The final step following a fatal car crash is determining criminality. With all the information gathered from law enforcement and other investigators, police will work to determine if an individual was criminally negligent in causing a victim's death. While an individual might not have acted to intentionally cause a car accident, there are certain acts that could hold them criminally liable. These acts include but are not limited to the following:
Driving under the influence of drugs or alcohol
Speeding
Disobeying road signs
Hours of service violations for big rig commercial truck drivers
The driver's intent, the severity of their conduct, and several other factors can increase the possibility of more serious criminal charges and more severe penalties if convicted of a crime related to a fatal crash.
Speak With an Attorney Today
If your loved one has been the victim of a fatal car accident, having legal guidance you can count on is imperative. At Rusk, Wadlin, Heppner & Martuscello, LLP, our team of attorneys and staff are committed to helping your family get the representation they deserve. Contact us today for a free consultation on your case.