Intersections a Danger Zone for Drivers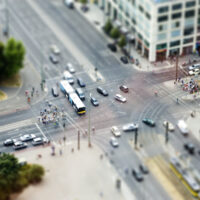 It should come as no surprise that a portion of the road where drivers traveling in opposite directions must cross paths would be more dangerous than nearly any other portion of the road. Federal research shows that intersections facilitate a large share of all accidents, and that several common behaviors are often to blame for these potentially-deadly collisions. Read on to learn more about intersection accidents, and contact a seasoned Hudson Valley traffic accident lawyer if you've been hurt in a collision in an intersection.
Disproportionate number of accidents occur in intersections
The National Highway Traffic Safety Administration conducted a study of data gathered from the scene of serious accidents by emergency personnel and law enforcement to determine the rate and causes of intersection accidents. According to their analysis, nearly 40% of all accidents occurring each year happen in intersections. The report also notes that 96% of those accidents were the result of driver error, rather than atmospheric conditions or a defect of the vehicle.
The mistake pinpointed most often as the cause of an intersection crash was inadequate surveillance. In other words, the driver at fault for the accident failed to thoroughly survey the intersection before entering it, thus failing to note the presence of an oncoming car or pedestrian before making their move. Failing to adequately scan the intersection was found to be the cause of over 44% of all intersection crashes. Another error that commonly led to crashes was the false assumption of another driver's action. For example, drivers assumed that an oncoming car would stop at a yellow light, leading them to decide to turn left, but in reality the oncoming driver accelerated to make it through the yellow light, resulting in a crash.
Preventing intersection crashes
Keep the following rules in mind when traveling through an intersection to reduce your risk of accident:
Don't change lanes close to or in the middle of an intersection. You run the risk of colliding with a driver you didn't notice as they began to enter the intersection.

Don't assume you know what another driver will do. Instead, wait to see evidence of what they plan to do, rather than assuming they'll obey traffic signals or speed limits.

Check your blind spots. Before you make a turn, check your mirrors and blind spots for oncoming cyclists, pedestrians, or motorcycles. Even if there shouldn't be someone in your blind spot based on traffic rules, there may be someone present, all the same.
If you've been injured in a collision in New York, find out if you may have a right to recover money damages by contacting the knowledgeable and effective Hudson Valley personal injury lawyers at Rusk, Wadlin, Heppner & Martuscello, LLP for a consultation on your case, in Kingston at 845-331-4100, or in Marlboro at 845-236-4411.