Is it Legal to Drive Barefoot?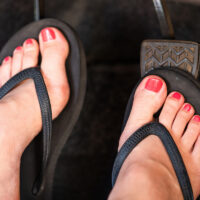 There are a lot of things you cannot do while driving. You cannot drink alcohol or consume narcotics while driving. You cannot use your hands to text, browse the internet, or watch a video while driving. There are also things that might not be strictly illegal, but they could subject you to liability should that behavior lead to an accident. For example, if you were eating a sandwich while driving and that caused you to have an accident, you would likely be held to be at fault. Where does driving while barefoot fall? Is it considered unsafe? Do traffic safety experts believe driving barefoot relieves you of control over your vehicle? Continue reading to learn about New York traffic law as it pertains to driving without shoes, and if you were injured in a car accident in the Hudson Valley, call a knowledgeable Kingston traffic accident lawyer for help.
New York Law Does Not Prohibit Driving Barefoot
The short answer is: It is perfectly legal to drive barefoot. No New York State traffic law requires drivers to wear shoes or other footwear while operating a motor vehicle. If you are pulled over by the police for any reason, the fact that you are not wearing shoes will not lead to an extra traffic citation.
Is It Important to Wear Shoes While Driving?
Although not legally required, there are other reasons why wearing shoes to drive is a good idea. Traffic safety experts do claim that shoes are useful to better distribute your weight when you apply pressure to the gas, brake, or clutch. You thus have more precise control while wearing shoes than when barefoot. Driving without any shoes puts more pressure on the ball of your foot and can lead to your foot slipping off the pedal, especially if your feet are wet.
Wearing flip-flops or other backless shoes while driving is also less than optimal. Backless shoes can slip off while you are driving or cause your foot to slide off the pedal, causing you to lose control for precious seconds. If you lose control at the wrong time, you could find yourself in an accident.
Moreover, because driving barefoot is not seen as the safest way to operate a vehicle, if you wind up in an accident, being barefoot could work against you. If the other driver's lawyer or insurance company finds out that you were barefoot at the time of the accident, they might try to use that against you and claim that you caused or contributed to the accident. You'll lose some bargaining leverage at the settlement negotiation table. If your case goes to trial, a judge or jury could find that your lack of shoes contributed to the accident, which can reduce the value of your claim. New York is a comparative negligence state, meaning that if the factfinder determines you were 10 percent at fault for the accident, you can only recover 90 percent of your damages against the other driver (who was found to be 90 percent at fault).
Being barefoot can also lead to worse injuries in the event of a car accident. Your feet are more directly exposed to cuts, scrapes, and bruises, and they are less protected against twists and fractures.
Although driving barefoot is not illegal, it's generally a good idea to wear proper footwear while driving in the State of New York.
Experienced and Effective Legal Assistance With a Hudson Valley Car Accident Claim
If you or someone you love has been hurt by another negligent person in New York, find out if you're entitled to money damages for your injuries by contacting the seasoned and dedicated Hudson Valley car accident lawyers at Rusk, Wadlin, Heppner & Martuscello, LLP for a free consultation at 845-331-4100 (Kingston) or 845-236-4411 (Marlboro).