Large Truck Weight Limit May Increase Under New Federal Regulation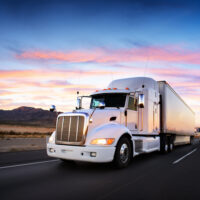 Rep. Reid Ribble (R-WI) has introduced a potential change to the federal regulation mandating the maximum weight of big rigs and tractor-trailers using the federal highway system. The bill, widely supported by industries reliant on shipping, would allow states to individually change their maximum permissible weight limit for large trucks from the current limit of 80,000 lbs. to 91,000 lbs., provided the heavier trucks have a sixth axle installed. Most semi-trucks and tractor trailers currently have five.
Corporations shipping products such as glass-bottled drinks and produce have long complained of their need to send partially-filled trucks out onto the road, due to their reaching the weight limit prior to being filled to capacity. Rep. Ribble, as well as other advocates for the change, cite studies stating that, by installing the sixth axle, the truck's weight is distributed in a way that would not result in greater strain on roads and bridges. Advocates also state that the distance needed for trucks to come to a stop would remain equal or decrease with the axle's addition. With fewer trucks on the road, these advocates claim, there is a lower chance of collisions with large trucks, making passenger vehicle drivers safer.
However, other research seems to contradict these findings of greater safety. Certain states, such as Washington, already permit heavier six axle trucks on their roads, allowing federal transportation agencies to examine their effects on traffic safety and infrastructure. While data is limited, the Department of Transportation found that the heavier six-axle trucks had up to a 47% higher crash rate and had 18% more brake violations when inspected. The Department of Transportation stated that, at this point, there is simply not enough data to conclude that the heavier trucks are safe.
While a reduction in the number of large trucks on the road would surely be a benefit to other drivers in terms of congestion, and a smaller number of trucks on the road could improve safety, increasing the weight limits on large trucks may not be the most beneficial way to obtain those ends. Due to the fact that the effects of the higher weight limit have not yet been widely studied but only observed under very limited circumstances, it is impossible to conclude whether or not the heavier trucks' greater force of impact and higher crash rate would persist should the limit change nationwide, resulting in a serious threat to the well-being of other drivers.
If you or a loved one has been involved in a New York truck accident and you want the best possible opportunity to be fully compensated for the losses you suffered in the crash, contact the knowledgeable truck accident law firm Rusk, Wadlin, Heppner & Martuscello for a consultation on your possible truck crash lawsuit, at 845-331-4100 in Kingston or 845-236-4411 in Marlboro.