Legislators Limit Provision Permitting Teen Commercial Drivers to Cross State Lines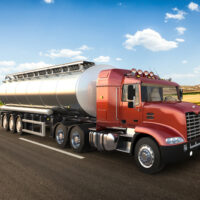 On Friday, December 4, the first multi-year federal highway funding bill was approved by both the U.S. House and Senate, bringing with it a number of changes to existing federal regulations governing interstate commercial trucking. While the influence of the trucking industry on federal lawmakers is evident from examining the bill and its concessions to demands of trucking lobbyists, a number of provisions that threatened driver safety were removed or altered prior to the bill's final passage.
One measure that had been included in previous versions of the bill, and in fact changed only hours before the ultimate version of the bill was approved, would have lowered the age limit for commercial truck drivers traveling on interstate highways to cross state lines. Under current federal law, states are permitted to set their age limit for individuals to obtain commercial trucking licenses at 18 years or older, but the age limit to drive across state lines is set at 21. A provision included in a former version of the federal highway bill would have created a four-year pilot program that permitted 18-year-old commercial drivers to cross state lines, if those states had an agreement with one another for the driver to do so. Drivers over 18 but under 21 would not have been able to transport hazardous materials, nor specially-configured or overweight trucks. While state participation would be voluntary, experts noted that pressure to participate for states neighboring those with lower age limits would be high. After four years, the U.S. Department of Transportation would report to Congress on the safety of these younger drivers. However, after public outcry and warnings issued by safety groups on the danger of such a law, lawmakers made a last-minute change to the program, restricting participants in the pilot program to active military service members and veterans age 19 ½ to 21.
Trucking industry lobbyists argue that falling numbers of full-time long-haul truckers necessitates increasing the pool of applicants, and that allowing younger drivers to make deliveries across state lines would improve transportation speed and efficiency. These groups argue that, since 18-year-old drivers are already permitted to traverse states such as Virginia and Texas, the distinction of traveling between states does not promote additional safety. However, safety advocacy groups decried the change as dangerous and lacking in research. In fact, while research into the safety of younger drivers is minimal, one study conducted by the Department of Transportation noted that fatal truck crash involvement rates are 66% higher among drivers between the ages of 18 and 21. Without additional support that such dangerous, attention-demanding work can safely be done by inexperienced teens, such change to existing law was widely seen as premature.
If you or a loved one have been injured in a Hudson Valley truck accident, contact the knowledgeable Kingston personal injury lawyers at Rusk, Wadlin, Heppner & Martuscello for a free consultation on your claim, at 845-331-4100 for our office in Kingston, or 845-236-4411 for our Marlboro office.