Local Woman Killed in Marbletown Crash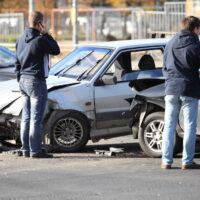 A tragic accident took the life of a 78-year old Hurley woman this week when she was killed in an auto accident on U.S. Route 209 on Sunday, April 3. The woman and her 81-year old husband were traveling south on Route 209 near Pine Tree Lane, with the husband driving the car. At about 5:10 that evening, a car traveling in the opposite direction crossed the center line, colliding with the couple's car head-on. The driver of the other car was a 39-year-old female resident of Stone Ridge. All three individuals were injured, with both drivers receiving injuries determined not to be life-threatening. The three were transported to the Broadway Campus of HeathAlliance Hospital in Kingston, where the passenger was declared dead. The other two crash victims were later transferred to Albany Medical Center for further treatment.
Prior to the accident, the driver who caused the collision had been seen exhibiting dangerous behavior on the road. A member of the Woodstock Town Board who happened to be following the driver as she traveled north on Route 209 said that the car had drawn his attention, and he later described what he saw to local media. The Board Member described how he saw the car veer on and off the road, kick up dirt, and more than once veer into the opposite lane of traffic before swerving back. He reflected, "I knew that something awful was going to happen, and I was right." While the Board Member attempted to render aid to the elderly couple after the collision, there was little he could do to help. While an investigation into the accident is ongoing, no charges have yet been filed.
While uncommon, head-on collisions are possibly the most lethal form of car accident. Head-on crashes account for only 2% of all collisions, yet 10% of all car accident fatalities each year result from such accidents. When head-on crash victims do survive, they are often saddled with serious injuries, especially where cars were traveling at highway rates of speed in opposite directions prior to an accident. Laws against crossing double-yellow lines are designed to prevent such accidents. If the driver crossing a center line was also intoxicated or driving while texting or otherwise using a phone illegally, as is often the case with head-on collisions, then that driver could face additional liability to the victim in the form of punitive damages, as well as criminal charges.
If you or a loved one have been seriously injured in a car or truck accident in New York, ensure that you are compensated for your medical bills, lost wages, and property damage with the help of seasoned and dedicated personal injury attorneys by contacting the Kingston attorney for auto accidents at Rusk, Wadlin, Heppner & Martuscello for a consultation on your case, in Kingston at 845-331-4100, or in Marlboro at 845-236-4411.