Making Commercial Trucks Safer with Automation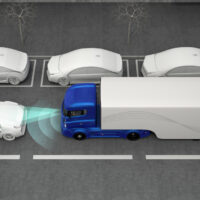 Large commercial trucks can be very challenging to maneuver through busy highways and city streets, even under ideal circumstances. When distractions, weather, or simple negligence factor in, the risk of a crash involving a large truck rises even higher. Increasingly, safety researchers are suggesting that, if more large trucks used automation and the crash-avoidance technologies that have begun to appear in passenger vehicles, many large truck accidents could be prevented. Read on to learn about the role that self-driving functions and other advanced safety features could play in making New York roads safer, and contact a knowledgeable Hudson Valley personal injury attorney if you've been injured in a truck crash. Understand how using autonomous commercial trucks would be beneficial to truck drivers and other drivers on the road.
Despite dangers of truck crashes, trucks carry fewer advanced safety features than passenger vehicles
For the past several years, traffic deaths have been rising across all accident types, and tractor-trailer and other large truck crashes are no exception. The National Highway Traffic Safety Administration reported that over 4,300 people died in crashes involving large commercial trucks in 2016, which is a 5.4% increase over the number of people killed in 2015. Some safety researchers are now asking whether carrier companies are truly doing all they can to reduce the number of serious crashes involving big rigs.
Many new passenger vehicles come equipped with such safety features as automatic emergency braking, front-crash warning, or blind-spot warning systems. The Insurance Institute for Highway Safety believes that well over 100,000 crashes each year, and nearly 30% of large truck crashes, could be prevented or made less severe if vehicles had blind-spot warning, lane-departure warning, and stability control systems installed.
Tens of thousands of accidents involving large trucks could be prevented each year
Unfortunately, advanced safety features are rare to find on commercial trucks. According to safety think tank Securing America's Future Energy, only about 15% of all large commercial trucks have some form of collision avoidance or front crash warning system installed. Consumer Reports' director of auto testing, Jake Fisher, explained that, "If anything, it's more important that these advanced driver aids come standard on trucks than on cars. Tractor trailer trucks can weigh up to 80,000 pounds, and the consequences of a crash—no matter who is at fault—can be devastating."
Some researchers are suggesting that self-driving systems would also go a long way in preventing crashes involving semi-trucks and tractor-trailers. A number of truck manufacturers, including Tesla, Volvo, and Daimler, are already developing big rigs with self-driving systems. One scenario that might not be far off would be a system where a human driver operates the vehicle on surface streets and highway on-and off-ramps, as well as during cargo loading and unloading, and automation takes over on highways.
If you or someone you love has been injured in an accident involving a large truck, big rig, or tractor-trailer in New York, find out if you have a right to compensation for your injuries by contacting the seasoned, professional and effective Hudson Valley personal injury lawyers at Rusk, Wadlin, Heppner & Martuscello, LLP for a free consultation at 845-331-4100 (Kingston) or 845-236-4411 (Marlboro).