Motorcycle Manufacturers Introduce Touchscreens for Bikes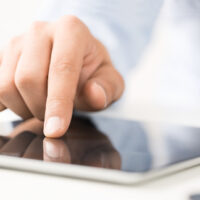 Touchscreen entertainment systems have been a component of new passenger vehicle models for some years now. The center console screens are quickly becoming a standard feature on new models of motorcycles, as well. Earlier this month, Indian motorcycle manufacturer Polaris Industries announced the development of their own version of the feature, joining the manufacturers of Harley Davidson and BMW, which already offer touchscreen systems on their bikes.
The new touchscreen system from Polaris, known as Ride Command, will offer a number of features designed to improve the rider experience. Ride Command will offer standard in-vehicle entertainment center features such as direction mapping and syncing to smartphones. The devices will also notify riders of the nearest gas station when their tank runs low, and offer riders feedback on their own riding technique, such as braking, acceleration, and lean angles.
In-vehicle entertainment systems hold a somewhat controversial reputation among roadway safety experts. As we discussed in a previous post, studies have shown that some vehicle infotainment systems bring about a marked impairment in the ability of drivers to pay attention to the road. Since motorcycle riding already carries a greater risk of serious or fatal injury as compared to driving in a passenger vehicle, some experts have wondered if adding touchscreens to motorcycles would amount to a death sentence for motorcyclists.
However, proponents of the screens on bikes make persuasive arguments in favor of the addition. While passenger vehicle drivers have long had seamless access to music and mapping applications while behind the wheel, motorcyclists have been forced to fumble with paper maps and external music players. A centralized system to handle these functions could make riders safer by allowing them to focus more attention on the road. Additionally, a system that could warn riders of upcoming hazards, such as potholes, inclement weather, or stopped traffic, could save rider lives by allowing them an opportunity to avoid them. The system that now comes standard on many models of Harley Davidson, known as Boom! Box, offers controls that are contained entirely on the bike's handlebars, allowing riders to control the computer without ever moving their hands.
If you have been injured by a motorcycle accident on New York roads, determine if you may be entitled to compensation for your injuries by contacting the experienced and knowledgeable Hudson Valley personal injury attorneys at Rusk, Wadlin, Heppner & Martuscello for a consultation on your case, at 845-236-4411 (Marlboro), or 845-331-4100 (Kingston).