Navigating Auto Repair Post-Car Accident in New York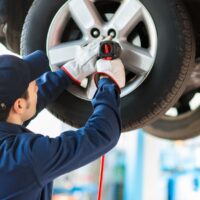 Experiencing a car accident can be a distressing event. However, the task of having your car repaired should not add to the trauma. Below we provide some tips for dealing with the auto repair aspect of a crash. If you are having difficulty dealing with the insurance company, or if you or a family member suffered an injury in the accident, contact Rusk, Wadlin, Heppner & Martuscello, LLP for advice and representation from one of the Hudson Valley's most established and respected personal injury law firms.
Safety Above All Else
Your first concern after a crash should always be safety. Ensure everyone involved is safe and has received any required medical help. Summon the police to the scene to ensure that an official report is made – a crucial document for later insurance claims or potential legal pursuits.
Obtain Thorough Documentation
After ensuring safety, gather as much information as you can from the scene. Photos of your damaged vehicle, the overall scene, the other involved vehicle(s), and their license plate(s) are necessary. Collect the contact details of any eyewitnesses, and jot down incident details while they're still fresh in your mind.
Inform Your Insurance Provider
Notify your insurance provider at your earliest convenience, giving them all the relevant information. They will guide you through their claim process.
Right to Repair Shop Selection
New York law gives you the right to select the repair shop of your choice. Although your insurance company may suggest preferred shops, the final decision is yours. Prioritize shops that are certified and have a solid reputation to ensure the best repair work.
Obtain Multiple Repair Estimates
It's advisable to acquire multiple quotes for the repair work. This allows you to assess the most cost-effective and quality option, ensuring fair treatment.
Decipher Your Insurance Policy
Insurance policies can be intricate, so having a clear understanding of your coverage is crucial. Under New York's no-fault insurance law, your insurance company will pay for your car's repairs up to the limit of your policy, regardless of who was at fault. If damages exceed your policy limit, you might need to seek compensation from the at-fault driver's insurance.
Seek Legal Counsel
If your claim gets complicated or if a dispute arises concerning the fault, it would be beneficial to seek legal advice. Our Hudson Valley personal injury law firm can guide you through the labyrinth of legal processes, helping you understand your rights and responsibilities, and representing you to secure the highest compensation you deserve.
Review Final Repairs
After your vehicle has been repaired, make a thorough inspection before leaving the shop. Confirm that all repairs align with the initial quote and that the vehicle is safe for use.
At Rusk, Wadlin, Heppner & Martuscello, LLP, we appreciate the complexities you face in the wake of a car accident. Our experienced Hudson Valley personal injury attorneys have the expertise and experience to help you navigate this challenging period. We can guide you through the complex legal issues and insurance procedures, ensuring you understand your rights and are dealt with fairly by insurance companies.
Your well-being is of the utmost importance to us. If you have had the misfortune of a car accident, don't hesitate to reach out to us. We will stand by you every step of the way, offering experienced legal counsel and the much-needed support to get through these tough times. Trust us to help you make your post-accident journey less taxing and more manageable. Call us at 845-331-4100 for our office in Kingston or 845-236-4411 for our Marlboro office, or call 800-566-4101 throughout Ulster County and the mid-Hudson Valley. Your call is free, and there is no fee until we recover compensation for you.