Negligent Hiring and Training of Commercial Drivers a Possible Contributor to Accidents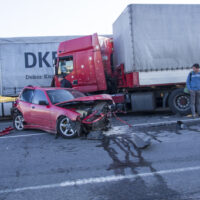 If you're on the road, it's inevitable that you will drive alongside a number of commercial vehicles. Frequently, vehicles driven for a commercial purpose have the potential to be even more dangerous than the average passenger vehicle; a limousine, bus, or tractor-trailer is capable of causing far more harm than a sedan, if driven recklessly. If you're hurt in an accident with a commercial vehicle, you may have a claim not just for the driver's negligence, but also for the negligence of the employer in failing to adequately screen or train the driver before allowing that driver behind the wheel of a company vehicle.
New York employers who are selecting a candidate for a role that will lead to interaction with the public have a legal duty to ensure that their hiring decisions are responsible ones. A school could face liability if it hired a teacher who injured a student and had a dangerous criminal past, as would a hospital for hiring a doctor with a long and serious history of malpractice, who fatally injures a patient. Likewise, a company that makes use of commercial drivers has a duty to conduct background checks of its employees and ensure that they will be a responsible, cautious driver, and have no substance use problems or a history of driving recklessly. For example, if you're injured in a crash with a semi-truck or bus where the driver was under the influence of alcohol or drugs, the company employing that driver may face additional liability if it was aware that the driver had driven under the influence in the past, and nevertheless hired or failed to terminate the person. Their irresponsible hiring or firing practices can put you or your family at risk.
In addition to holding companies responsible for failing to screen their employees, companies are obligated to issue adequate training to their commercial drivers. Driving a large, unwieldy vehicle like a tractor-trailer, bus, or limo is challenging. Companies must ensure, through regular screening and careful supervision, that their drivers are up to the task. If the employer's records show that a driver has not kept a commercial driver's license up to date, or has not received sufficient follow-up training or skill maintenance from their employer, that employer may suffer additional penalties.
If you've been hurt in a truck, bus, or commercial vehicle accident in New York, contact the Hudson Valley law firm of Rusk, Wadlin, Heppner & Martuscello for a no-cost consultation on your accident injuries, at 845-331-4100 in Kingston or 845-236-4411 in Marlboro.