New Analysis on Traffic Fatalities Shows Another Year of Rising Deaths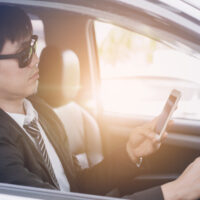 The National Highway Traffic Safety Administration has recently released its in-depth analysis of traffic deaths occurring in 2016. While numerous factors, such as an increase in total miles driven as well as higher rates of drunk driving, appear to have contributed to the increase, many experts believe that distracted driving is the biggest cause for the increase in deaths.
According to the NHTSA's report, 37,461 Americans died in traffic accidents in 2016, marking a 5.6% rise in the rate of traffic deaths over that of 2015. The NHTSA reported that every day in 2016, 100 people died while in or near vehicles across the US. This is the first time in ten years that fatalities have occurred at that rate. In the past two years, the rate of traffic deaths has increased by 14.4%.
It isn't just drivers and passengers who died at a higher rate in 2016; cyclists, motorcyclists, and pedestrians were also victims of a rising fatality rate. So-called non-vehicle occupants made up nearly 33% of all traffic fatalities in 2016. In 2007, this number was approximately 25%. 5,987 pedestrians were killed in 2016, which is an increase of nearly 1,100 deaths since 2014. In other words, there has been a 22% increase in pedestrian deaths in only two years. Deaths among cyclists and motorcyclists have also increased by about 15% each in that timeframe.
The causes for this increase in fatalities are somewhat in dispute. The NHTSA reports that the rate of fatal crashes caused by a distracted driver declined by 2.2% from 2015. Distractions were estimated to cause 9.2% of all roadway fatalities in 2016, and mobile phones specifically were deemed responsible for only 448 deaths.
Outside experts speculate that this data on phone use behind the wheel is flawed. These experts point to the growth of fatality rates among non-vehicle occupants as a factor in support of their theory that distracted driving accidents are underreported. Pedestrians, cyclists and motorcyclists are easy to miss when a driver is only looking up at the road occasionally from their phone. Additionally, in the two years since 2015, the number of Americans who say that they use their phones to follow the news or share photos through social media has increased from 10% to 80% of the population. This type of behind-the-wheel phone usage isn't always as easy to track as it is to track texts or phone calls. Further, the National Safety Council found that only half of the fatal crashes which were linked to phone use were considered fatalities caused by distraction from a phone in the NHTSA's database.
Handheld phone use behind the wheel is illegal in New York. If there is evidence that distraction from phone usage was a cause in a crash that caused your injuries, that evidence could support the case for the liability of the at-fault driver.
If you've been injured in a crash in New York, find out if you have a claim for money damages as a result by contacting the knowledgeable and effective Kingston car accident lawyer of Rusk Wadlin Heppner & Martuscello, LLP for a consultation, at 845-331-4100 (Kingston), or 845-236-4411 (Marlboro).